And now for something completely different ….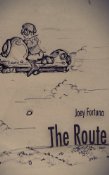 Admittedly, cobbler/musician/computer scientist/cum author, Joey Fortuna's novel, The Route is not the standard fare for WWTFT book reviews.  But it's a masterwork of creativity.
The Route is a morality play of good and evil in which the dark forces of the anti-Claus are pitted against those of Santa and his elves in an evil plot to destroy Christmas. Think you've seen this movie?  You haven't.
In Fortuna's world, the elves are quasi-magical creatures who once co-existed with human beings, but who long ago abdicated their realm in the face of growing human greed and selfishness.  In accordance with their nature of generosity and goodness, the elves employ metaphysical technology to stop time and allow Santa to deliver Christmas joy to millions of children world wide.  So far so good?  Well, here's the part of the story you haven't heard.
In this story, Santa has an evil nemesis who dubbed himself Saulc Atnos.  Saulc is bent on destroying Christmas and putting the "s" back in elf – self.  His dastardly plan involves replacing the "give" endemic to Christmas with the  "take" of human greed. In order to further his designs, he and his evil assistant Miktor figure out a way to create an army of psychopathic gollums called gimmes – as in: gimme that.   They aren't terribly bright, nor are they terribly effective.  But they're easy to make, and outnumber the elves.
Preventing their success hinges on The Route which Santa takes every Christmas.  This closely guarded secret is all that stands between the gimmies and world domination.  Each year The Route is calculated anew, in a seemingly random manner, through the use of a mysterious elvish device.  But now Saulc and Miktor have figured out how to recreate The Route!   Only the bravery and brains of a handful of elves can prevent disaster.
No spoilers.
The Route is as full of twists and turns as it's name implies.   The prose is easy to read and sparkles with imagination and clever nuances, like "elf help," "elf control," and "elf improvement."  But the puns aren't hammer-handed or overwhelming, and serve to add interest.  Fortuna manages to construct a world with enough detail to make sense, without dwelling on the technology so much as to make the story drag.  On the contrary, his characters have character, and his dialog is brisk and believable. There are two brief scenes toward the end of the book in which elves converse with human children.  These were especially poignant and fun.
The Route is a bold experiment which skirts some cultural taboos in its treatment and explanation of Christmas.  It's a book which might not be quite every parent's idea of a kid's book.  In fact, it seems as though Fortuna recognized this about half way through the story, and began to back peddle on some of its darker elements involving the "extraction" of The Route.  Fortuna takes the reader just to the point of discomfort, and then eases off.  But that doesn't mean that the story slows down.  In fact, The Route picks up speed as the story progresses and becomes steadily more and more enjoyable.  In the right hands, this would make a terrific movie.
If you have an afternoon on your hands with a few hours to spare (and .99), The Route won't disappoint.  It's a clever story and a lot of fun.