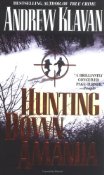 Hunting Down Amanda isn't particularly unique or original in its plot or premise.  However, Andrew Klavan writes in an engaging and interesting style that keeps the reader wanting to finish the story.  Once again, this another Klavan book that makes for pretty good airplane reading.  It is just about the perfect length for the 5 hour flight from JFK to PHX.
The conceit of this 2000 novel, is that there is a kid who can mysteriously and miraculously cure people who might otherwise die.  This kid and her mother are the target of a sinister psychopath, employed by a for-hire "fixer" organization called Executive Decisions, that eliminates  any problem … for a price. Fate brings a cast of mostly-flat characters together to keep Amanda and her mum out of the clutches of this organization and the evil pharmaceutical company that hired them.
The character, Howard Roth provides a welcome exception to the flat character syndrome.  Klavan's depiction of Professor Roth is both insightful and believable.    Roth is a depressed old man who has spent the bulk of his life immersed in a study of the classics.  Klavan introduces Roth by relating a scene in which Roth is told by a feminist toad (the college Dean) that his life's work is no longer relevant, dismissing the entirety of Western tradition as so much chauvinism:
"I'm sorry but I don't think Homer is really relevant to these kids, Howard," she said.  "All these myths you love to tell them.  All that glorification of war, the romance of rape.  I'm sorry, I just don't think they're important to us any more."

This was when Roth, staring down at her with a kind of mute wonder, knew that his bid to reinstall Western Civilization as a breadth requirement course had failed.  He had known it would fail all along, and yet even so he could have wept for it.  If Socrates had realized it would come to this — that the glory that was Greece would ultimately lead to this cultural black hole — this dead end … this … this Althea Feldman …

Well maybe Socrates had known.  He had drunk hemlock, after all.
However, Klavan kills off Howard and several other potentially interesting characters, before he develops them enough for the reader to get too attached to them.  Perhaps this is just as well.
The dialog, while clever, at times didn't seem to fit the characters.  At one point in the story the main characters are running for their lives, but proceed to make jokes and banter with one another, in spite of the fact that at this juncture in the story they don't really know one another well enough for their repertoire to be believable.   While entertaining, the scene was jarring for it's inability to convince.
Overall, these criticisms are merely quibbles. If Hunting Down Amanda isn't quite as good as True Crime or Empire of Lies,  it is fun to read.