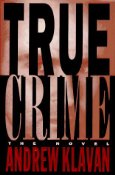 I picked this book up as it was headed out to the donation pile.  It made good airplane reading.
Klavan wrote this book in 1995, probably before he got politically active.  Conservatives may recognize Andrew Klavan from his hilarious, but poignant videos on PJ TV.  In fact, he's so famous for these, that many people may not realize that he is actually a talented writer.
True Crime is a fiction noir, in which the main character is a smart, but none too savory newspaper reporter with a proclivity for cheating on his wife and skeptical mind.  True Crime is written in a very believable and straight-at-you kind of style.  The preface at the beginning leaves the reader thinking that the story might actually be true and really sets the stage for suspending disbelief.
The main character, Steven Everett, is a newspaper reporter who gets assigned to interview an inmate on death row on the day of his scheduled execution.  Everett is a calloused hard-nosed skeptic who discovers, to his chagrin, that the accused is actually innocent. The story is about Everett's quest to beat the clock and find evidence to save the condemned man.  It's ironic because Everett is no crusader.  (No spoilers here.)
Klavan did a lot of research and there isn't a false note in the entire book.  The story rockets along at a frenetic pace; it takes place within the space of a day.  What makes it good, though, is the sure-footed dialog, and the no-holds-barred, honest depiction of the first-person character, Everett.
Aside from the great dialog and fast-paced action, Klavan manages to sneak in some pretty interesting observations about human nature and what makes people tick.   The reader gets the sense that Klavan is documenting his own road to faith, and it is interesting to read this after reading Empire of Lies, reviewed here.
True Crime is highly entertaining and fun – and since it came out in 1995, you should be able to find it cheap in a used book store.  If you're looking for a way to pass the time on an airplane, you could do worse than to buy this book.