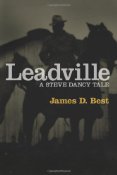 What fun!  It's no wonder that Jim is as popular as he is on Amazon and that readers clamor for him to release his next installment of his Steve Dancy western series.  I recently had a business trip to the east coast and downloaded Leadville and Murder at Thumb Butte to read on the trip.   On the way out, I read another book, which, while entertaining, wasn't nearly as good.  On the way back, a 5.5 hour flight, I read this fast-paced, fun book and half of Murder at Thumb Butte.  I was almost wishing that the flight were longer!
Leadville picks up where The Shopkeeper leaves off.  Steve Dancy reprises his role as a shopkeeper (you need to read the book to get the reference, sorry) of sorts, and concocts an elaborate scheme to retrieve the kidnapped daughter of his Pinkerton friend, Joseph McAllen.
In his story, the good guys have a conscience, but sometimes have to do hard things.  There is no fluff in this story, just straight-through action and good dialog.  Best has mastered the ability to tell a story end to end without jumping around.  His first-person writing style never feels contrived and he never resorts to Deus ex machina to resolve an improperly formed plot twist – there aren't any.  Leadville is pure entertainment with great character development.  Louis Lamour fans will definitely approve!
Jim's hero is only slightly larger than life and even the good guys have flaws.  Dancy is an unusually mature young man, who's main shortcoming is his infatuation with a cold-hearted, conniving wench, named Jenny.  Fortunately, she only makes an appearance at the very end of the story.  (It's a phenomenal ending, by the way.)
I really enjoyed Leadville, and although I might have been able to con Jim out of a copy, I bought the Kindle version which is a great value at only $6.  If you like westerns, and even if you don't, it's a great way to pass the time on an airplane!