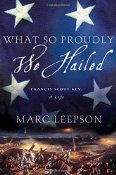 What So Proudly We Hailed
Francis Scott Key, A Life
By Marc Leepson
Count this blogger a Marc Leepson fan. Having previously read, relished and reviewed Saving Monticello and Flag, An American Biography, my expectations for a new book by Leepson were high. That they were disappointed is not a criticism of Leepson as writer or historian but his choice of subject.
The poem Francis Scott Key wrote on the night of September 13-14, 1814 during the ferocious and crucial Battle of Baltimore made him a celebrity. Although he opposed the War of 1812, having witnessed the British attack upon Baltimore he was moved by patriotic fervor to write the words that became America's national anthem. No one knows how the poem wound up at a Boston printer the following morning, or who was responsible for setting it to the music of an English drinking song. Key never mentioned it in his letters at the time and only once some 20 years later did he refer to it in a political speech. Yet, except for his authorship, it is unlikely that Key would be remembered today save for his intersections with some historically memorable men. Leepson's book is the first biography of Francis Scott Key.
The book begins slowly by taking the reader back to Key's great-grandfather, the founder of the American branch of the family. This establishes the origins of Francis Scott Key, lawyer, amateur poet and author of the verses that officially became America's national anthem more than eight decades after being written.
Key's great grandfather Phillip Key, a London-born lawyer, immigrated to the colonies in 1720 where he practiced law in Maryland. Law, Leepson writes, was to become "the family business." Great grandfather Key was a wealthy landowner, leader of the community and a devout member of the Church of England and, like others of his time and place, owner of slaves. His progeny entered the law and prospered. That they married into moneyed families helped.
Francis Scott Key was as prolific a father, as he was a lawyer, having fathered 11 children and represented a multitude of clients, black and white, during his long career. He defended freed blacks unlawfully threatened with return to slave status and he did so without remuneration. He also represented slaveholders and helped them regain possession of runaways. "If he considered it problematic to represent black people in court one day and then white slave owners the next, he never said so."
He owned slaves whom he viewed as members of an inferior race. He spoke of their inability to provide for their own needs and slavery as feeding, clothing, housing and, ideally, caring for them in their old age. That the reality often fell short of the ideal was not part of that discussion.
He was also a devout Christian who, like others of his time and station, perceived no conflict between his religious beliefs and slave-holding. But Key condemned the slave trade and sought to stop it.
The main slavery issue Francis Scott Key concerned himself with in 1816 was colonization; the idea of encouraging former slaves and other African freed men and women to leave this country and settle in Africa. (Leepson's emphasis.)
Key was one of the founders of the American Colonization Society. The Society's constitution stated that the group's objective was colonization of freed blacks, not the emancipation of slaves. The group included many prominent men, most owned slaves. Among them were Chief Justice John Marshall and Speaker of the House Henry Clay.
Because 'the unconquerable prejudices result from their color,' Clay said, freed blacks 'never could amalgamate with the free white of this country.' Sending free blacks to Africa, he said, would also introduce 'the arts, civilization, and Christianity' there.
"'Can there ever be a nobler cause,' Clay asked rhetorically, 'that which, while it proposes to rid our own country of a useless and pernicious, if not a dangerous portion of the population, contemplates the spreading of the arts of civilized life, and the possible redemption from ignorance and barbarism on a benighted corner of the globe.'"
Especially worrisome was that freed blacks would foment rebellion among slaves.
Key's defense of freed blacks and, in the same venues, slave owners seeking to reclaim runaways might be explained by fealty to the law. But Key's later willingness, after he joined the Andrew Jackson administration, to manipulate the law for personal and political reasons would make that explanation a hard sell for this reader.
The election of Andrew Jackson as president in 1828 marked a profound shift in national politics. It also marked a sea change in Francis Scott Key's political, professional, and personal lives. The tepid Federalist who loathed partisan politics morphed into a full-throated Jacksonian Democrat.
The pious son of a genteel Maryland aristocracy was drawn to the rough populist from Tennessee. Both men, Leepson writes, were intensely patriotic, they both loathed government corruption; they both owned slaves and detested the growing abolitionist movement. Or perhaps, the author suggests, "It was simply opportunism. In Andrew Jackson, Francis Scott Key saw his first chance to become a presidential confidant."
Despite Jackson's condemnation of cronyism, during the 1828 campaign in which John Quincy Adams was defeated, once in office the new president appointed many political supporters to plum government posts. Francis Scott Key was one of them.
As legal aide to the administration Key performed many tasks, among them he defended Jackson's old friend Sam Houston against the charge of contempt of Congress. The charge stemmed from the beating Houston administered to fellow House member William Stanbery. The attack was provoked by a speech made by Stanbery, a Jackson administration opponent, in which he made an allegation regarding Jackson's efforts to give Houston the contract for Indian rations. Houston took umbrage and vowed to shoot Stanbery if he had the opportunity. Instead, having come across him on a Washington street, Houston beat him savagely with his cane.
Twenty-four years later the caning of Massachusetts Senator Charles Sumner by South Carolina congressman Preston S. Brooks is recounted in many books, one reviewed here. The Houston affair is less famous.
"Houston was plainly guilty, but Frank Key–either under orders from Jackson or because of his unquestioned devotion to the Jackson cause– put on a defense that stands among his least distinguished legal endeavors."
After a month of wrangling the majority Democrat House resoundingly convicted Houston of contempt of Congress and issued a reprimand. Stanbery brought a civil suit against Houston for assault and battery. The court found Houston guilty and assessed a fine of $500 and court costs. But Houston never paid a dime. Jackson ordered the federal marshal's office in Washington not to collect the fine. Houston decamped to Texas where he marched to renown as the hero of the Battle of San Jacinto, winning independence for Texas, and becoming the first president of the Republic of Texas.
In 1833, presumably for services rendered, Jackson appointed Key U.S. attorney for Washington. In that post for eight years, Key prosecuted a variety of cases. A few emitted the unmistakable odor of political taint, among these the effort to curtail defendant Reuben Crandall's First Amendment right of freedom of speech. Key prosecuted Crandall for having abolitionist literature in his personal possession. Crandall was found not guilty on all charges. It is a tawdry story best told by Leepson.
To Key's credit he also prosecuted the white leaders of the first race riot in the history of Washington, D.C. for torching black homes and businesses; reaction to the Crandall and other cases brought by Key involving race.
Today some would call Key a religious zealot and a hypocrite. But he reflected the convictions and contradictions of the time in which he lived. Key was raised within the slave-holding traditions of the South and he justified his views as both moral— in the best interests of slaves — and, not incidentally, his own and his peers' economic interests.
Leepson provides an objective portrait of Key, rarely letting distaste for his subject's beliefs about colonization and slavery show. The reader learns about Key's exemplary family life, the tragic deaths of three sons during Key's lifetime, and the diligence and sometimes the courage with which he pursued his vocation.
At the end of the book, Leepson writes: "in nearly every other aspect of his full life, he acted with rectitude and integrity."
"Above all, for as long as the republic stands, he will be remembered for writing the words to the anthem that has stirred the hearts of American for two centuries."
Perhaps that is enough.