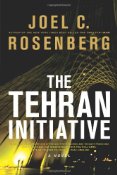 The Tehran Initiative is a quasi-apocalyptic novel which touches upon biblical themes. Â It's the first novel I've read by this author and apparently picks up where his previous novel leaves off. Â The book is fast-paced and enjoyable. Â It's quasi-apocalyptic in the sense of the outcomes – no spoiler here, don't worry. Â (Evidently the author is planning for a franchise.)
Rosenberg is clearly very knowledgeable about the politics and peoples of the Middle East, and his assessment of the Washington elites is frighteningly realistic. Â The fictional President Jackson in Rosenberg's story bears some striking similarities to the present occupant of the White House. Â Rosenberg's Jackson is despicably weak, naive and dangerously egocentric. Â However, he is not intentionally anti-American. Â The president of Rosenberg's novel bears no misplaced antipathy toward the United States, nor does he engage in outright lies. Â He is merely pathetic, weak and stupid.
Nevertheless, for any slight difference in motivations, the policies eschewed by Rosenberg's Jackson are pretty much the same as those promulgated by Mr. Obama. Â Whatever the source, stupidity or malice, the results are predictable. In The Tehran Initiative, the fictional Jackson is solely motivated by his re-election campaign and a desire to believe in the promises of the Twelfth Imam. This character is more than willing to lie to the gullible Jackson, to buy time to launch a nuclear attack on Israel.
Other characters in the book also bear more than superficial resemblance to present day politicos. Â Most notably, the fictional prime minister of Israel appears as almost a direct clone of Prime Minister Benjamin Netanyahu. Â Both the real and fictional Israeli Prime Ministers leave this reader jealous of Israel's leadership.
The Tehran Initiative is Christian fiction just shy of the mode in the popular (but terribly written) Left Behind series. Â Rosenberg makes no apologies for his religious perspective, but largely avoids hitting his reader over the head with it. Nonetheless, some readers will no doubt be turned off by the religious implications and views espoused in the book. Â For all that, it is incredibly timely, and really does seem to have been ripped directly from today's headlines.