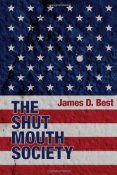 The Shut Mouth Society is a potboiler of the first order.  James Best fans will be surprised as the author steps a bit outside of his regular genre, the classic American Western, and gives hero Steve Dancy a break.  This reviewer wasn't sure what to expect as Jim has been fairly close mouthed about the book himself, except to say that this book is his wife's favorite.* After reading it, it's easy to see why.  It is difficult to talk about the story without giving away any of its many twists and turns, which on reflection, is probably why the author was so "shut mouth" about it. Well, here goes.
The Shut Mouth Society gets its name from the closed-mouth, intensely private nature of Abraham Lincoln as a politician and president. Best weaves an intricate tale that stretches back into Lincoln's time. In some respects it is reminiscent of an old Clive Cussler novel called Night Probe. In this reviewer's opinion, Best's book is better.  The plots of these stories are vastly different, but both revolve around events of the past that villains past and present seek to cover up in order to abet their nefarious activities.
As Best's story makes its turns and loops, the tale never flags. Best demonstrates his historical knowledge of Lincoln and his cabinet and sprinkles in some pretty interesting historical anecdotes along the way. This reviewer's interest was most definitely piqued.
There is something in this story for everyone. If you're a fan of Dan Brown you'll enjoy The Shut Mouth Society for its conspiratorial hook. But in addition to secret societies, and history, Best also weaves in a touch of adult romance (without raunch) and even manages to show off his knowledge of surfing. (He is an avid surfer, as is his main character.) The Shut Mouth Society is written in a "never mind maneuvers, go straight at 'em," style. He never resorts to Deus ex machina to resolve a pretty turbulent plot, but keeps the reader guessing until practically the end, with plausible, if surprising twists.
Like his Dancy westerns, The Shut Mouth Society is a great way to make a plane ride fly by effortlessly, or make the reader wish for a longer flight!
*DISCLAIMER: James Best is a regular WWTFT author and a good friend of this reviewer.