"[Tyrannical] power is absolute, minute, regular, provident and mild. It would be like the authority of a parent if, like that authority, its object was to prepare men for manhood; but it seeks, on the contrary, to keep them in perpetual childhood." Alexis de Tocqueville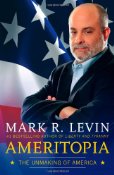 Mark Levin's Ameritopia, The Unmaking of America has been at the top of the New York Times bestseller list for six weeks, which is surprising since it is pretty much a non-polemic history book. Some fans of Levin's radio program may be disappointed, especially if they listen to hear his rants against progressives.  It's almost as if Mr. Levin has different personalities depending on whether he's in front of a microphone or a keyboard.  When writing, he intends to educate, while on the radio he often comes across as a scold. The radio personality does not suffer fools at all, and his writing gives a clue as to why—Levin has a powerful and highly trained intellect.
In Ameritopia, Levin pits utopian ideologists against republican theorists who champion the individual. The book is a compact survey course in government theory from Plato to Tocqueville.  Plato, Thomas More, Thomas Hobbes, and Karl Marx are presented in Part I on Utopianism.  John Locke, Charles de Montesquieu, Alexis de Tocqueville make up the team on the right, so to speak.  In these first two sections of his book, Levin lets each of these men speak for themselves, with long quotes interrupted only by an occasional sentence or two. Even when Levin writes his mind in Part III, he remains almost detached and academic.  This is a serious analysis of opposing theories on how man ought to be ruled; either by an all-powerful state or by self-rule with a heavy reliance on individualism.
At times, the long quotes can come across as stilted, but applying a little concentration is well worth the effort.  Ameritopia summarizes the most important debate on governance, a debate that has raged for well over twenty-five hundred years.  The argument is about whether the individual or the tribe is the basic element of human existence.  Is the individual sovereign—as the Enlightenment taught—or are we all cogs that must work and/or sacrifice for the good of a greater society?
Utopians believe man can be made good, and when this ideal is attained, life will be good for all.  The prerequisite is that man suppresses his greed and accepts guidance from progressive leaders.  In other words, tribal chiefs know what is best for everyone. The opposite side argues that individuals are "endowed by their Creator with certain unalienable Rights," and liberty depends on leaders bowing to the "consent of the governed." In the first case, the government must always be made more powerful in order to make everyone conform for the general good, while opponents believe man possesses certain lusts for power that invariably make controlling states dangerous to life and liberty.
The thesis of Ameritopia is that the United States was founded on Enlightenment principles, and those principles made America exceptional.  He believes that this exceptionalism is the basis of the American Dream and made us a beacon of liberty for the world. Unfortunately, Levin also believes those principles have been severely compromised and we have traveled a long way down the utopian path.
Mark Levin knows his radio pronouncements will not endure much past his sign-off, but he wants his writing to influence Americans for a long time, possibly generations.  He may very well have succeeded.  This is a fine book, written with care, by a fine mind.
James D. Best is the author of the Steve Dancy Tales and Tempest at Dawn, a novel about the 1787 Constitutional Convention. Look for his new book, Principled Action, Lessons from the Origins of the American Republic.