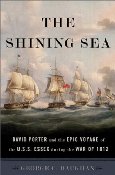 The Shining Sea is the fascinating story of David Porter and his ship Essex.  Most people today probably don't know who David Porter was.  He was a one of a crop of remarkable sailors who served in the United States Navy during its early years.  Porter was a contemporary of Stephen Decatur, Edward Preble, William Bainbridge, and Isaac Hull.
Porter gained distinction in the War of 1812 when, as commander of the USS Essex, he captured HMS Alert, the first of a surprising string of victories against the vaunted British Navy.
In the process of relating Porter's exploits, Daughan fleshes out a number of very interesting connections to other notables of the age.  For example, Porter adopted and mentored ("damn the torpedoes") David Farragut, who became famous in his own right for his accomplishments during the Civil War as a Northern Naval officer.  David Glasgow Farragut was born James Farragut, the son of George Farragut, a United States Naval officer during the American Revolution. When Farragut's mother died, leaving him and his 4 siblings with a grieving and overwhelmed father, Porter offered to adopt two of his children, an offer that the 53-year-old widower gratefully accepted.   Farragut was about 7 years old.  He went to sea as a midshipman in the United States Navy at the age of 9 – and served with distinction.   While serving on the Essex during the War of 1812, he was given command of a captured prize at the age of 12.  The prize, a whaling ship named the Barclay, was Farragut's responsibility.  Complicating matters was the fact that the ships erstwhile captain and his first mate were left on board to navigate.  At this point in time, Porter had amassed a small fleet of captured vessels, and officers were in short supply to man them all.  Lieutenant John Downes, another admirable character, was to lead a convoy of prizes, including the Barclay, back to Valparaiso.  Daughan writes:
Randall was a fiercely independent old cuss, who wanted his ship back so that he could resume whaling.  Instead, he was ordered to navigate the Barclay to Valparaiso, and submit to the orders of a twelve-year-old.  He was understandably furious, and from the beginning of the voyage he made it plain that he was determined to take back his ship.

As soon as the Barclay separated from the Essex and stood south with Downes' convoy, Randall made his move.  He shouted at Farragut in a voice that was heard throughout the ship, "You''ll find yourself off New Zealand in the morning."

At that moment, Farragut recalled,

We were lying still while the other ships were fast disappearing from view; the Commodore going north, and the Essex Junior, with her convoy, steering south for Valparaiso.  I considered that my day of trial had arrived (for I was a little afraid of the old fellow, as everyone else was).  But the time had come for me, at least, to play the man; so I mustered up courage and informed the captain that I desired the main topsail filled away, in order that we might close up with the Essex Junior.  He replied that he would shoot any man who dared to touch a rope without his orders, he "would go his own course," he shouted, "and had no idea of trusting himself with a damned nutshell," and then he went below for his pistols.
While Randall went off in search of his pistols, Farragut reissued the order and it was obeyed.  When Randall returned Farragut warned him that if he came on deck with his pistols he'd have him thrown overboard.  Randall believed him and gave no more trouble.
Farragut went on from there to serve in several wars, in a career spanning more than 40 years.   Even though The Shining Sea is a book about Porter and the Essex, the brief coverage of Farragut was enough to contrast his character with that of his adoptive father.  Both were brave men and fantastic leaders, but Porter had a thirst for glory that clouded his judgment.
Porter had already achieved a good deal of fame in his capture of HMS Alert in 1813.  But, he hungered for more, so when a loophole in his orders allowed him to follow his own predilections, he took the Essex around Cape Horn to menace British whalers in the Pacific.
At first he was hugely successful, and captured a dozen or more prizes and over 300 prisoners during his first year.  But what he really craved was a decisive action in which he could prove his mettle against a British warship of equal or larger size.
Porter's escapades did not go unnoticed by the British and they were determined to put an end to Porter's depredations of their whalers.  However, it took the combatants some time to find one another.  The Pacific is a big place and Porter decided to take a break to refit and replenish supplies in the Marquesas, after spending a lot of time patrolling the Galapagos Islands.
Porter's actions in the Marquesas are bizarre, and show a man of overreaching ambitions.  Completely without authority, or even good reason, Porter involved himself in internecine conflicts between the islanders and claimed the islands as US territory, renaming them the Madison Islands after President James Madison.  (Obviously, the name didn't stick.)  After an extended period of debauchery with native women, and fruitless machinations to set up an American outpost, Porter left Marine Lt. John M. Gamble in charge of an untenable fort. The natives had had more than enough of the imperious Americans and their meddling. It is a testament to Gamble's leadership that he was able to get clear of the mess that Porter left for him.  Gamble sounds like a very interesting character.  (Prior to this, he became the first and only Marine ever to command a ship, when a shortage of officers led Porter to assign him the command of a prize.)
After leaving the island paradise, much to the chagrin to many of his men who had enjoyed the libertine ways of the natives, Porter, the Essex, and the Essex Junior, its tender, ended up in Valparaiso, where they met up with the British.   Porter got himself into a bad position, and was forced to surrender to Captain James Hillyar RN, after a brutal long range pounding of the Essex.  The Battle of Valparaiso was not Porter's finest moment.  He deluded himself into thinking that he was entitled to a quixotic single ship battle, when the British had overwhelming firepower (more and longer ranged guns) at their disposal in the form of the frigate HMS Phoebe and the sloop Cherub.  Hillyar was not about to throw away a decisive advantage. He was determined to put an end to the American menace, and didn't view his service in the Royal Navy as a mere vehicle for his own ambitions.  Farragut defended Hillyar's conduct of the battle, years later:
… Porter was about 32 years of age at the time, "and the pink of chivalry," of an ardent and impetuous temperament; while Hillyar was a cool and calculating man, about fifty [actually forty-four] years old, and, as he said to his First Lieutenant, "had gained his reputation by several single-ship combats, and only expected to retain it on the present occasion by an implicit obedience to orders, viz., to capture the Essex with the least possible risk to his vessel and crew."
Despite, the defeat, Porter and his ships fought bravely, and on their return, were feted as heroes.  Nonetheless, Porter became a quarrelsome prima donna, and eventually left the Navy after being court-martialed, having irritated one too many of his superiors, one time too many. He left the United States to serve as the Commander in Chief of the Mexican Navy from 1826 – 1829.   Ultimately he served as diplomat, first as minister to the Barbary States and then as US ambassador to Turkey until his death in 1843.
Daughan tells Porter's story in a way that takes the reader from admiration to, if not disdain, disappointment in the foibles of a man obsessed with reputation.  Porter's story is sad in some ways.  He had many virtues and talents, but these were ultimately cast in the shadow of overwhelming ego, ambition, and a convoluted sense of entitlement.  But for all that, Porter was an American hero who left a legacy that included his adopted son David Farragut, Civil War admiral David Dixon Porter and commodore William D. Porter.