Last week we had a look at a British account of the single ship action between the HMS Shannon and the USN Chesapeake.  This week, we'll have a look at the American perspective on the loss of the USN Chesapeake.
As might be expected, the US Navy adopted many of the customs and procedures of the Royal Navy.  One of these is that, as in most other navies as well,  a court martial trial is held in the event a ship is lost.  This does not necessarily mean that the captain is suspected of wrongdoing, only that the circumstances surrounding the ship's loss need to be made part of the official record.  Frequently the outcome of such a trial is the exoneration of the captain involved.  However, in the Royal Navy, depending on the circumstances, losing a ship could be a capital offense.  Depending on the circumstances, the penalty in the US could be as severe:
ART. 26. When in sight of the ship or ships of the enemy, and at such other times as may appear to make it necessary to prepare for engagement, the Captain shall order all things in his ship in a proper posture for fight, and shall in his own person, and according to his duty, heart on and encourage the inferior officers and men to fight courageously, and not to behave themselves feintly or cry for quarters on pain of such punishment as the offence shall appear to deserve for his neglect.

ART. 27. Any Captain or other officer, mariner or others, who shall basely desert their duty or station in the ship and run away while the enemy is in fight, or in time of action, or entice others to do so, shall suffer death or such other punishment as a court-martial shall inflict.
This was of course moot for Captain Lawrence, as he was killed in the action. However, getting an official verdict on his conduct, and that of the rest of the crew of the Chesapeake, was of prime importance for the pride of the nation.
It is interesting to compare this account with that of the British and the synopsis at Wikipedia.
Please click on the articles to enlarge the text.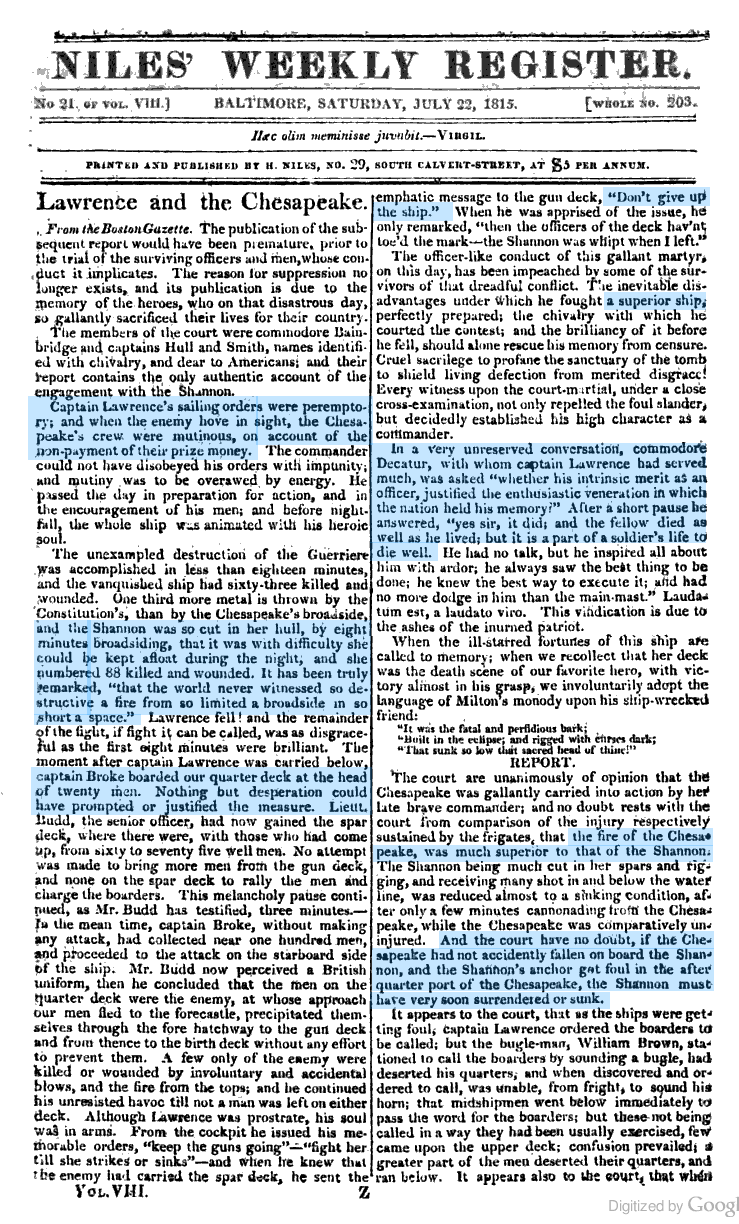 Please click on the articles to enlarge the text.