On June 22, 1807, the British 50 gun ship of the line Leopard1, blasted the United States frigate Chesapeake with multiple broadsides, wounding nearly a score of men and killing three.  Two of the wounded lost arms.  The National Intelligencer provides this account:
British Outrage. — We give the public the particulars of he following outrage on the American flag, under the influence of feelings, which we are certain, are in union with those entertained universally with our fellow-citizens; feelings which we cannot, which ought not to be suppressed.  We know not indeed that this savage outrage has a precedent in naval annals.

On Monday last the U.S. frigate Chesapeake, of 38 guns, left the capes, where they lay at anchor a British squadron consisting of three two deckers and one frigate of 38 guns.   As she passed this squadron, without molestations, one of the two deckers, the Leopard, put off, and went to sea before the Chesapeake.  when the latter came up with the Leopard, at the distance of about three leagues from the squadron, her commander, captain Humphries, hailed the Chesapeake, and said that he had a dispatch to deliver from the British commander in chief (meaning admiral Berkeley of the American station.)  Commodore Barron, supposing it was a dispatch for Europe, hove to, when captain Humphries sent on board of her a letter covering an order of admiral Berkeley, to take from the Chesapeake three men alleged to be deserters from the Melampus frigate, and designating them by name.  Commodore Barron replied by letter that no such men as named in admiral Berkeley's order were on board, and added that hs crew could not be mustered for examination by any other officers than his own.  This answer was couched in terms of politeness.  It was no sooner received than a broad-side was discharged from the Leopard.  The crew of the Chesapeake at this time were not at quarters, considering the Leopard a friend, and commodore Barron not contemplating the possibility of danger so immediately after leaving the capes.  No other attempt was therefore made to fight her than the discharge of a few straggling guns, while the Leopard repeated three or four more broad sides; when the Chesapeake struck her colors, after having three men killed and eighteen wounded.

A boat was then put off from the Leopard with an officer who demanded four men.  Commodore Barron said he considered the Chesapeake as a prize to the Leopard : — the captain of which vessel, said no — that his orders were to take out the men, which having executed, he had nothing further to do with her.  Thus dismissed she returned to Hampton Roads, where she now lies.  She received in her hull twenty-two round shot,  her foremast and mainmast were destroyed, her mizen-mast(sic) greatly injured, and her rigging and sails very much cut.

Of the wounded eight are considered dangerous, and two have lost an arm.  Commodore Barron suffered a contusion, received from a splinter which is not serious.  No other officer is wounded, excepting a midshipman Brown, and he but slightly.

Nothing evinces in more striking colors, the insolence of captain Humphries, that his immediate return after this outrage to the capes where he now lies with the other ships of the squadron.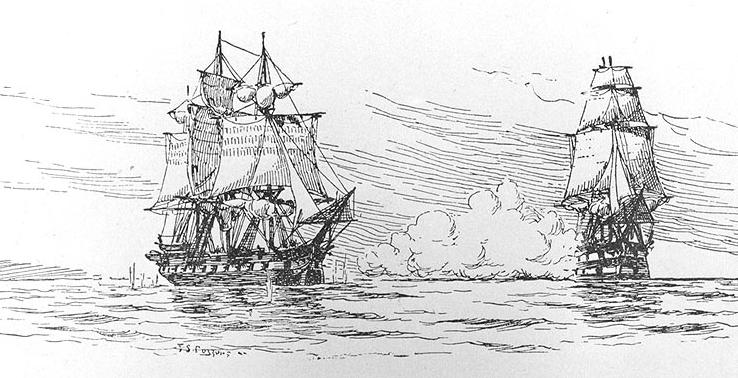 Ignoring American protests, the men taken from the Chesapeake were tried in Halifax in August 1807.  Of the four men, only one was British-born, the others were Americans who had served in the British navy. The English deserter, Jenkin Ratford, was tried and hanged from the yardarm of a ship. The Americans, were sentenced to 500 lashes and prison, although they were later returned with some ceremony, a few years later, to the Chesapeake.  On July 2, President Jefferson signed an official decree ordering all British ships from American waters, although he was powerless to enforce it.  In October of 1807 King George III issued an order to step up the impressment of British sailors, while President Jefferson issued an embargo of all British Trade in December of the same year.
1The Leopard appears in several Patrick O'Brian novels, most notably in Desolation Island, in which there is a fictitious exchange in the Antarctic between and American whaler and Leopard.  It is from this book that this post gets its title.