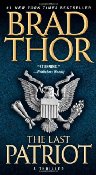 The Last Patriot is novel by Brad Thor, and admittedly not the sort of book normally reviewed on WWTFT.   That being said, there was a clever tie-in to some things that are regularly covered on WWTFT.  For one, President Thomas Jefferson is weaved into the plot as is Captain Isaac Hull, the man famous for sinking HMS Guerriere early in the War of 1812.
Like the late Vince Flynn (Mitch Rapp) or David Baldacci  (Oliver Stone), Thor doesn't waste characters he has developed, choosing instead to feature them in continuing adventures.  In this case, ex-Navy Seal, turned black-ops operative Scot Harvath finds himself coincidentally caught up in the middle of an international race to uncover or permanently bury, a secret discovered by Thomas Jefferson two centuries earlier.
The story is fast-paced and exciting, which allowed this reader to ignore/forgive some some pretty gaping plot holes.
So what was the secret?  (No spoiler here, so don't worry.)  Thomas Jefferson, being the polyglot and all around smart guy that he was, realizes that Islamic fanaticism poses a great danger to the United States and the rest of the world.  Upon reading a long lost first edition of Cervantes' Don Quixote, Jefferson discovers an encoded message within the original text, alluding to the existence of a long lost "final revelation" to the prophet Mohammed.
Jefferson sends Isaac Hull with a company of marines to deal with the Barbary Pirates, and tasks the marines with a secret mission to retrieve something of great importance.
In the present day, Harvath ends up embroiled in a battle between Saudi-funded extremists seeking to prevent this from ever seeing the light of day, and the President's privately funded mission to resolve the mystery.  Along the way, the reader is treated to some actual history about Jefferson, Monticello and Poplar Forest (another of Jefferson's homes, and place this reader will have to visit!).
All in all, it's a good yarn and fun way to spend a few hours.
Books/Authors Mentioned in this Review