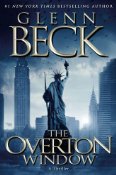 Glenn Beck's latest book is a pot boiler and unlike the type of book normally reviewed here on What Would The Founders Think.
Regular watchers of Beck's television program will recognize many of the themes around which the plot is framed. Â The bad guys are a nasty, soulless, Progressive elites, bent on the destruction of our system of government and way of life. Â The arch villain is a tremendously cynical sociopath, willing to stop at nothing, even the destruction of his own son. Â The good guys are intent on restoring the legacy of the Founding Fathers. Â Beck apparently borrows one of the themes from Ray Bradbury's Fahrenheit 451. Â His heroes each spend time memorizing different selections from the writings of the Founders.
Beck also borrows from many recent events, weaving them into his storyline. A great many of the pieces and events that make up the Overton Window are factual. Â How these events are woven together is not as implausible as the reader might like. Â After all, who thought that Tom Clancy's jet fuel filled airliner scenario would actually end up being employed a few years later on 9/11?
Unfortunately, while the plot is interesting and provocative, the writing is rather flat and the characters are pretty shallow. Â The book reads a bit like something from the "Young Adult" section of the library – at least from a literary point of view. Â It's unfortunate that Beck couldn't get a better group of writers to assist him as the plot was solid and sophisticated. Â Nelson DeMille would have done a great job with this.
Beck had more in mind, though, than just telling a story. Â He wanted to make a point about where we could be heading as a country. Â In order to answer anticipated criticism and accusations regarding his favorite style hat – e.g. one made of tinfoil – Beck includes a substantive afterword in which he explains, chapter by chapter, which things were true and which were fabrications. Â He points the reader to a lot of different sources and encourages fact checking. Â It's clear that this wasn't just intended to be a novel – which is probably a good thing, given the so-so caliber of the writing.
Nevertheless, The Overton Window is an entertaining read and certainly one that makes the reader think. Â It is obviously structured for a sequel. Â Maybe Beck can con Mr. DeMille to help out with that one.