With apologies to Thomas Sowell, allow me to offer some of my own random thoughts.
I'm old enough to remember when the government shutdown was supposed to spell the end of the GOP.
Thanksgiving was at my house this year. We had 15 members of the family attend. Wanting to do my part, I accepted the pledge from Organizing for Action and had "the talk" about healthcare with family members over some turkey, mashed potatoes and cranberry sauce. They scattered faster than rats on a sinking ship. I made a mental note to use that same tactic next time a satellite TV salesman comes knocking.  However, this approach will not work when the Get Covered America folks show up at my door step to… talk about healthcare. Yikes! Guess I need a plan B.
President Obama is begging, pleading, cajoling health insurance companies to… break the law – his law. He wants those companies to reinstate policies (remember, those lousy sub-standard ones) that the Obamacare law required be cancelled. Presumably, the Obama administration feels that since they don't follow law, nobody else needs to either.
Jay Carney was recently asked if Barack Obama had signed up for health insurance through healthcare.gov yet. Carney said that he hadn't. I guess President Obama is waiting until it gets closer to Christmas, hoping that the website will then offer free shipping.
Speaking of shipping, Amazon is looking into product delivery via drone. I've been wondering, if at some point in the future I buy a drone from Amazon, will it deliver itself?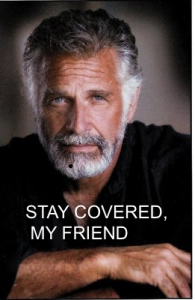 Singer Adam Levine was recently named the "Sexiest Man Alive." (Note: For the 55th year in a row, I was not under consideration.) Levine will be one of the entertainment and sports types the Obama administration plans to bring in to "boost" Obamacare enrollment. Remember, according to President Obama himself, all it needs is some rebranding. For me, I'd prefer the Most Interesting Man in the World from the Dos Equis beer commercials. Stay covered, my friends.
While on the subject of the rebranding of Obamacare, I've got one more thought to add to a previous post on this same subject. In reality, though, it may actually be better suited for the Obamacare critics. I propose a lavish full-length animated feature film. The storyline will be about a fish with gill cancer. Thanks to Obamacare's mandates, he couldn't keep his insurance that he liked, nor could he keep the doctor that he liked. It will be called Finding Chemo.
During the Nelson Mandela memorial service, the person standing next to each of the speakers signing for the hearing impaired was an imposter. A schizophrenic imposter, no less. What he was apparently signing was sheer gibberish. The White House is now considering having him sign at all Joe Biden appearances.
Alec Baldwin, who routinely publicly berates members of the press and paparazzi by swearing and using homophobic slurs was fired by MSNBC for publicly berating a member of the paparazzi by swearing and using homophobic slurs. Boy, sure didn't see that coming. MSNBC host Martin Bashir resigned following the blowback he received after suggesting that someone should defecate in Sarah Palin's mouth. Given his apparent interest in the subject, perhaps he should consider becoming the spokesperson for the Waste Management company.
Pope Francis was just named Time's Person of the Year. Others under consideration for the nod included Barack Obama, Kathleen Sebelius, Edward Snowden, Miley Cyrus and five others. Surprisingly, many were shocked that the Pope beat out Miley Cyrus. Apparently, licking everything in North America was enough for Time's editors to include her in the Top Ten, but not quite enough for Number One.  Further, feeling snubbed, Barack Obama was seen writing this note to himself, "2014 – More twerking."
Recently, a conservative website had a poll to vote for the Conservative of the Year. Names such as Rand Paul, Ted Cruz, Marco Rubio and Chris Christie were on the list. My vote would have gone to someone who I really think fits the bill for 2013 – Barack Obama. No one this year has done more to demonstrate the folly of big government and, therefore, done more for the cause of limited government than he has.
Curtice Mang is the author of the two books, including the new book, The Smell of Politics: The Good, The Bad, and the Odorous. He can be contacted at www.mangwrites.com, where one can also purchase his books; or contact Curtice at mangwrites at cox.net.