A recent AP story reports that the tax that is a penalty, unless arguing before the supreme court, but after it's ruled constitutional on the basis of its being a tax, isn't a tax … is going to be enforced by the nation's tax agency.
The Tax Man Cometh To Police You On Health Care : NPR.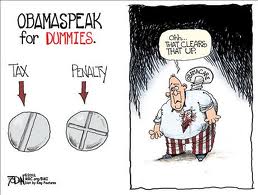 The Supreme Court's decision to uphold most of President Barack Obama's health care law will come home to roost for most taxpayers in about 2½ years, when they'll have to start providing proof on their tax returns that they have health insurance.
…
The IRS is expected to spend $881 million on the law from 2010 through 2013, hiring more than 2,700 new workers and upgrading its computer systems. But the IRS has not made public information about its spending plans in the following years, when the bulk of the health care law takes effect.