Wow!  FUN! FUN! FUN! This girl's trio is phenomenal!  Holy Moly are these gals good!  They have a couple things out, including an E.P. and a Christmas album.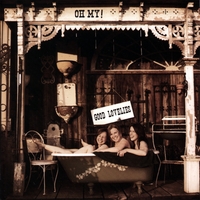 The EP, Oh My, has 5 songs on it.  They are all good.  The best of these might be their rendition of the classic Americana song, Clementine.
But, if you really want to get the full effect of their beautiful harmonies, pick up their Christmas album.  They take a lot of tried and true standards and manage to make them fresh and sparkly.  For example, what they have done with God Rest Ye Merry Gentlemen is totally unexpected.  It is a combination of some blues, new Orleans Jazz.   They actually did the Chipmunk song as a normal song – pretty neat.  This CD is so good, it merits listening to it throughout the year!  Who knew it was possible to freshen up some of these songs!  They are very talented with sweet voices, beautiful harmony, and vivacious personalities.    You cannot listen to these ladies and not have your jaw drop.