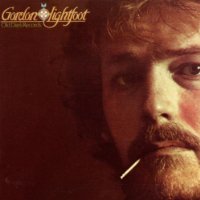 I am a Gordon Lightfoot fan. To those that know me, that sentence belongs next to "The Pacific Ocean is a good sized body of water" in terms of understatement. When Gordon Lightfoot albums were released, I would close the shades, turn off the lights, and place myself in between the speakers in my bedroom/living room/family room, light a cigarette and close my eyes. Usually I listened twice. Then wait a day and do it again.
I would not read the lyrics at first. I wanted nothing to distract me from the music. It was enough that I had to get up halfway through and turn the record over. Lightfoot's lyrics go with the music. Inseparable. Each accompanying note and instrument, each harmony. It is an indepth aural examination. A musical weaving of instruments, notes, harmonies, strings and of course, his amazing vocals. Especially in those days. Old Dan's Records and the preceding album from the Reprise years, Don Quixote, stand in my mind as the finest two albums that Gordon Lightfoot ever wrote and recorded. Considering that neither produced an American hit single, that may seem a bold statement. But it's not.
Reprise in the early 70's was still an artist's label, maybe due to its genetics (Frank Sinatra started the label with the mission to give artist's more creative control over their recordings), but certainly these albums represent the most thoughtful of Lightfoot's songs and showcase performances full of subtleties and choices that were representative of a man at the very top of his game.
Old Dan's Records is actually the 4th in the Reprise series. Reprise had a stable of artists, Ry Cooder, John Sebastian, Randy Newman, David Bromberg, and many, many others who recorded their own material. But the real treat was that they were brought in by Lenny Waronker, Gordon's long time producer, as session musicians on three of the first 4 Reprise albums. (Footnote: Summer Side of Life was recorded in Nashville, using the same Nashville musicians that he used on Back Here on Earth for United Artists.)  Summer Side of Life, the follow up to If You Could Read My Mind, doesn't sound anything like these recordings. Not that it was poor, not by any stretch. Almost all of Lightfoot's albums are amazing, but these Reprise recordings are as close to perfect as anything I have ever heard in my lifetime. I get a hitch in my throat when I hear something spectacular and when it connects to some otherwise inexpressible place. That happens occasionally with certain artists. And it happens with Gordon Lightfoot regularly.
I have listened to his albums over the years, but I hadn't taken the time to turn the lights out in years. "Listen to the strings. They jangle and dangle while the old guitar rings." Bromberg's dobro is spectacular, Nick De Caro's string arrangements that first appeared on Sit Down Young Stranger, the first Reprise album, are used perfectly. But it's more than the musicianship, it's the totality of the effort. The engineering on the album is near perfect. It's so clean, not murky, no sloppy moments, each note is listenable. Nothing covered up. The musicians are all respected. The arrangements are amazing. And you get the benefit of being able to be touched by each choice Gordon makes vocally. He goes soft and pensive on Another Lazy Mornin' and you can HEAR it. He expresses the theme perfectly, and you can HEAR it. The introductory piano notes, DUN, DUN, dun. The third one trails off and the guitar comes in. One of the most beautiful introductions on any of his recordings. Red Shea's eloquence is fully displayed. That's the experience of listening to a recording of a song in Reprise studios with musician's caliber.
Bromberg, who play slide dobro on the album, is just plain brilliant on My Pony Won't Go, a song about a man completely unhinged by a bad love. He is no longer in control of what he is doing, and she is clearly "in his head". All he can do is react. And hang on.
Listen to the way you are drawn into It's Worth Believin' . It's an up tempo country song that is one of the best ever written and captures the sense of helplessness of a man losing his lover, knowing he is the reason, and knowing at the same time that there is nothing he can do about it. He calls in the cat, she goes walkin'. If you have ever been there, that hook will get you. The tempo is in marked contrast to the sadness of the narrative. He just repeats, "I've got a funny feeling, that it's me".
Mother of a Miner's Child is a love song and showcases Lightfoot's meticulous rhythm guitar playing and bass lines of Rick Haynes. Sparse and simple arrangement, like the subject. True. Authentic. Without show or guile or agenda. She waits for him to come home. He hopes that their son will find a better way. The music and the lyrics are in lockstep.
Farewell to Annabel is the album opener, and at first seems thematically like It's Worth Believin'. It could be actually the sequel to it. He gets to take the higher ground. We get some great banjo and dobro as expositors. Same Old Obsession is extremely moving, in the vein of If You Could Read My Mind, Talking in Your Sleep, and Looking at the Rain, on earlier albums. Lightfoot had an amazing ability to write melody and lyric as one. These melodies are just outright gorgeous, and the lyrics get extra credit because of them.
This is a quiet album. A Sunday morning kind of album. Do yourself a favor and listen to it with the lights off. Forget the cigarette, times have changed. And see if you can find a hitch in your throat.