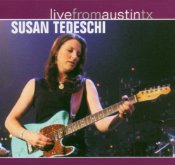 Susan Tedeschi has a sexy, gravelly voice that just draws you in. She is very reminiscent of Bonnie Raitt on a number of the tracks especially the first song on the CD, You Make It If You Try. However, while she does strongly evince echoes of Bonnie Raitt in her style, she is no imitator. The music has verve and spark. She lends her own style to her version of John Prine's Angel from Montgomery, in spite of being a signature Bonnie Raitt tune. The treatment is successful and unique.
She plays her own lead guitar and does it well. The other musicians on the album really serve to highlight and complement the power of her performance. There are number of cover songs on the CD and their diversity lends an interesting flavor to the total package. In addition to John Prine, she also features songs by Bob Dylan and Stevie Wonder among others.
In terms of sheer joy and energy, this reviewer's favorite track on the CD is I Fell In Love. This rockabilly rendition punctuated by her animally appealing chorus is infatuating and contagiously delightful.
If you're a Bonnie Raitt fan, especially her older stuff, and are in the mood for some fun, upbeat and energetic music, buy this CD.