And now for something completely different.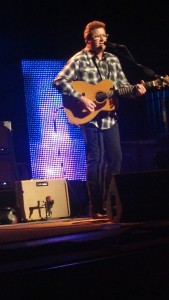 On a whim, a few months back, I bought some tickets to see Vince Gill.  I've always liked Gill, but was never a fan in the way I am a fan of Suzy Bogguss or Gordon Lightfoot.  I have to rethink that now, after seeing the show he put on last week.
He is, perhaps the most laid-back, and comfortable performer I've ever seen.  He was totally at ease as he walked out on stage in his jeans, un-tucked shirt and cowboy boots.  But, why wouldn't he be at ease?  He's been playing with the other members of the band for decades.  Decades.  The average age on that stage was over the mid-century mark.  They are all friends, consummate musicians, and all having fun.
Gill is a dynamic performer, and during the first set, he and his band showcased rockabilly, bluegrass, and the country stylings that he's known for.  Interspersed between songs, Gill evinced a lot of humility and gratitude for being where he was.  He told stories about his wife, Amy Grant, and engaged with members of the audience.
After the intermission, Gill came out on stage by himself for most of the second half of the show.  He had the audience cracking up as he told stories about his chain-smoking father and growing up in Oklahoma, and had them eating out of his hand as he told  the sad story of his brother's death and sang the song he wrote about it.  He performed this and other songs featured on his excellent  CD called Guitar Slinger.  ( The Old Lucky Diamond Hotel is my favorite.) Then he had everyone grinning at a silly song he wrote with Rodney Crowell.  According to Gill, his father came up with the song's hook and extorted a promise out of Gill to write the song, just before he died.
All in all, it was a thoroughly enjoyable show.  Gill's humor, guitar playing virtuosity, and his evident joy, made this a show I'll not soon forget.