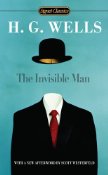 The first time I read this book by H.G. Wells, I was in 7th grade.  I remember because it was part of a single volume collection of H.G. Wells novels that included:  War of the Worlds and The Island of Dr. Moreau.   (The latter was when I first came across the term vivisection.  Ewww.)  I actually have a fair recollection of that novel.
But, interestingly enough, I had absolutely no recollection of this book.
Some years ago, I read another book with a similar title by a modern author, but I don't recall the name or the author. As I recall, it was fun to read as well. In that story, the main character ends up with some invisible clothes, so he doesn't have to wander around in his birthday suit. But, I digress.
This time around for the H.G. Wells version, I listened to it as an audio download from the folks at LibriVox. I have to give kudos to the reader of this book. Alex Foster did a great job. Having listened to a lot of recorded audio books, I think this one was as good as any professionally produced recording. For this particular story, the fact that the narrator is a Brit, helps the story that much more, since it takes place in England.
As for the book itself, it is very good. It was interesting to read because for the first half of the story, the main character is presented in a very sympathetic light. So much so, in fact that I still found myself rooting for him somewhat, even after he is shown to be insane! The author does a good job thinking through the issues that would be faced by someone in this predicament. All in all, it's quite easy to suspend disbelief at the premise, and both the story and the writing have aged well. I think it still reads well even today.
The Invisible Man is fast paced reading/listening and I thoroughly enjoyed it.