According to law enforcement statistics roughly 2,0000 people a year die from cutting or stabbing. Lone Star College in Texas was the site of a stabbing spree that wounded 14 students, some critically. In Arizona, the infamous Jodi Arias stabbed her boy friend 27 times before dispatching him with a gun.
Most recently, according to the Arizona Republic, a Goodyear man stabbed his wife and adult son to death. In a February fatality, a stabbing claimed the life of a bouncer at a Scottsdale bar.
It's obviously time to call on Harry Reid and Diane Feinstein to introduce legislation banning the sale of knives or other sharp instruments. (The weapon in Texas was described as a razor edged weapon that sounds like a box cutter.) At the very least, knife registration should be mandatory and every person who buys one should submit to a background check. Since the Obama administration wants us to follow Great Britain into government run health care, we can now actually be first to outlaw cutlery, especially the scary looking ones with the black handles. But we'll have to hurry.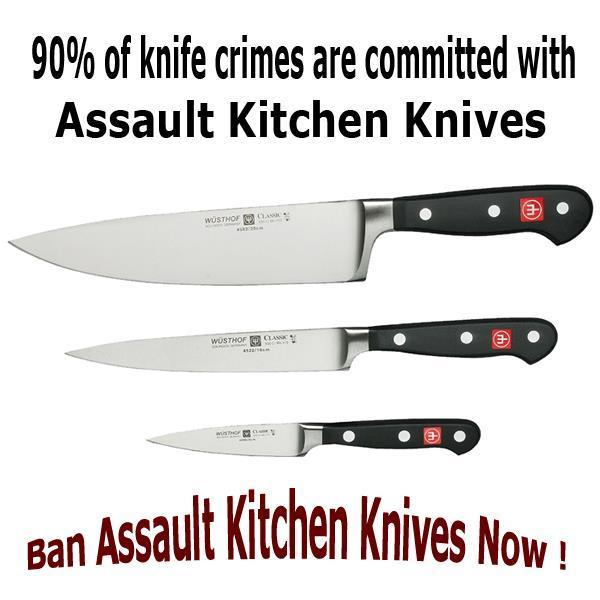 According to BBC News, Accident and Emergency doctors in Great Britain want to ban kitchen knives to reduce deaths from stabbing. The BBC reported on a study published in the British Medical Journal in which researchers said "'there is no reason for long pointed knives to be publicly available at all." The study said "links between easy access to domestic knives and violent assault are long established." The BBC also reported: "A Home Office spokesperson said there were already extensive restrictions in place to control the sale and possession of knives."
If a knife ban cuts down on meat consumption, all the better: everyone knows red meat is bad for you. And it's one less thing for Mayor Bloomberg to worry about.
Of course, guns are already verboten in Great Britain. Since banning guns obviously does not stop murders, it is now necessary to ban knives. And after that… why there is no limit to what government can do to keep us safe.