If the citizens neglect their duty and place unprincipled men in office, the government will soon be corrupted.— Noah Webster
The 2010 elections were a rout for progressives. Republicans captured an additional 63 seats in the House of Representatives to win the majority, the largest midterm seat change since 1938. Republicans gained 6 seats in the Senate, but not enough to gain outright control. Republicans also won a record 680 additional seats in state legislatures. Five states saw both chambers switch from Democrat to Republican majorities. In four additional states, Republicans flipped one of the chambers to give them control of both chambers. In three states they increased their control of both houses, and in four states they picked up one chamber to split control of the state legislature. Republicans saw a net increase of six governorships to gain a national majority.
It seems everyone received the memo except California. Democrats not only retained control of both houses of the legislature, but increased their majority in the lower house. Democrats took the governorship away from Republicans, but elected a retread from bygone days. Governor Jerry Brown had last held the office nearly thirty years ago. At that time, Brown was disparagingly called Governor Moonbeam for his hippy ways and he remains a committed progressive. Propositions 25 and 26 presented the coup de grace by eliminating the two-thirds requirement for budget and fee increases, thus completely neutering the minority Republicans. From top to bottom, 2010 was a raging success for Republicans—except in California.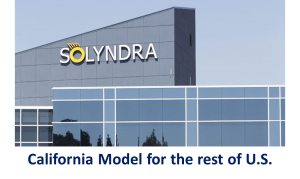 This is nothing new, of course. Democrats have pretty much controlled the California legislature for over fifty years. Let's look at how this has worked out for California. After multiple rounds of supposed budget fixes, the legislature is in a yet another deficit crisis and must fill a $15.7 billion hole. That's a mere 17% reduction from already reduced spending levels. They of course intend to fill the void by assuming passage of Governor Brown's tax propositions on the November ballot—a sales tax increase plus an income tax increase on anyone making over $250,000. The state appears to hate the evil rich, with the exception of the rich in Hollywood, sports, and cool technology companies. It doesn't seem to matter that the top 1% of California income earners already pay 50% of the state's income tax.
If voters fail to see things the governor's way, then schools will be shut down for an additional three weeks for two years. This from a state where per student spending for K-12 has doubled in the last 15 years, where there are more administrators than teachers, where test scores are abysmally low, and where dropout rates are among the highest in the nation. This tactic is nothing less than holding children hostage so their parents will continue to feed the spending machine in Sacramento. Do it our way or we'll cut spending where it will hurt you the most.
California is not doing well on other measurements. Unemployment is 11%, nearly three points over the national average. The state and its municipalities face unfunded pension obligations that top $500 billion. California now has 36% of the nation's welfare recipients. Nearly 10% of people in California rely on food stamps. The second city in the state has filed for bankruptcy. According to the Census Bureau, state tax collections were up nationally by 8.9% last year. California saw a 20.2% decline in projected tax collections. At an estimated 2.2 million, California has 32% of the illegal aliens in the United States, over twice as many as the next highest state. Up to 30% of its prison population consists of illegal aliens.  The cost of incarcerating these illegals is $1.4 billion a year.
We hear laments that we as a nation are turning into Greece, but California is already our Greece. Except instead of being a small economy in the EU like Greece, California is the biggest economy in the United States.
According to the Wall Street Journal, Joseph Vranich, who studies migration of businesses from one state to another, found that since 2009 the flight of businesses out of California "has increased fivefold due to high taxes and regulatory costs." Chief Executive Magazine reports that CEOs rank California dead last among the 50 states in business climate. Yet California Senate President pro tempore Darrell Steinberg contends that "the general belief that smart growth policies are driving California's people and businesses to other states is just plain wrong." No need to change anything here … we'll just ignore facts and declare what we don't want to hear as just plain wrong.
Until a recent court defeat, the governor and the state legislature continued to push for building a high-speed train connecting Los Angeles and San Francisco, despite the budget growing to three times the voter-approved amount.
Roger Hedgecock, former Mayor of San Diego has written "California is a one-party state dominated by a virulent Democrat Left enabled by a complicit media where every agency of local, county, and state government is run by and for the public employee unions." The state leans heavily Democratic, with 43% of voters registered as Democrats, compared with 30% as Republicans. And if voters do something progressives don't like, they can rely on the 9th District Court in San Francisco to overturn anything that even hints at scaling back a runaway government in Sacramento.
The old adage says that as California goes, so goes the nation. Is this our destiny? Is it even possible to reverse direction? The nation is tipping close to one-party machine politics like the type that have ruined the Golden State. There is a glimmer of hope. In June, California voted to scale back city employee pensions in San Jose and San Diego. If California finally wakes up, perhaps there is hope. We'll find out on November 6, 2012.
James D. Best is the author of the Steve Dancy Tales and Tempest at Dawn, a novel about the 1787 Constitutional Convention. Look for his new book, Principled Action, Lessons from the Origins of the American Republic.