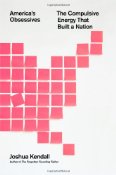 Joshua Kendall was kind enough to send me an ARC (Advanced Reading Copy) of his latest book as I had reviewed his previous book on Noah Webster here.  Since then we've exchanged a few emails (I liked his book on the Forgotten Founding Father and asked him to be sure and let me know when he wrote his next book.)
His latest book is a well-written and informative collection of seven mini-biographies.  I liked about half the book and was repulsed by about a third of it.  This has nothing to do with Kendall's writing, but rather his choice of subject matter.  Before reading America's Obsessives, I knew next to nothing about one of his subjects, Alfred Kinsey.  Now I know more than I wanted to.  Kinsey was a disgusting and reprehensible example of a human being.  He accomplished nothing of value in his worthless life, and used science as an excuse to feed his grotesque and despicable urges.  I couldn't wait to finish the chapter that Kendall devoted to him.  The world would have been a better place had he never been born and probably better off if Kendall hadn't chosen to write about him.  Consequently I'll say no more about him and not go into any of the lurid details that Kendall included in his limn.
Similarly, I could have done without the chapter devoted to Dewey, although this was more interesting than that about Kinsey.  Melvil Dewey was also a lousy excuse for a human being, but he did give us the Dewey Decimal System still in use today in libraries all over the world.  That was his only worthwhile accomplishment, however.  Kendall doesn't talk about his (deleterious) impact on education in the United States, but instead focuses on his neurotic behavior.
But there were some fascinating things in Kendall's book.  For instance, the chapter devoted to Charles Lindberg was packed with interesting information of which this reader had no idea before reading the book.  Lindberg was not a nice man either.  He sympathized with Hitler and was incredibly anti-Semitic, and was involved in the anti-war effort prior to WWII.  However, he redeemed himself somewhat after war was declared and contributed his time and effort as a civilian on the Pacific front, training pilots and eventually going on bombing missions himself – even though he was a civilian.    Prior to the war, Lindberg became convinced he could solve the problem of mortality and actually helped further medical science with some of his work on artificial organs.
I was less interested in the details of Lindberg's extramarital families in Germany.  He had 3 other families there, in addition to his wife and children in the United States.
Kendall's treatment of Jefferson didn't offer may surprises, other than the third President's facility with mathematics.  (Jefferson is still not one of my favorite founders, however intelligent he was.)
In addition to Jefferson, Kinsey, and Dewey, Kendall covers Estee Lauder, Henry Heinz, and Tedd Williams.  None of these people were particularly likable, but Kendall tells an interesting story and keeps the reader's interest.  I was most fascinated with the story of Ted Williams.  Again, I knew next to nothing about this icon of baseball except the tragic story of his son placing him in cryogenic storage – ostensibly to bring him back to life when medical science advances sufficiently to repair his body – but in reality to preserve his DNA in case there was a market for it.   (Sadly, the preservation job was apparently botched and his head was separated from his body in the process and perhaps dropped, whereupon it may have shattered.   It's hard to imagine coming back from that. )
What was more interesting was Williams' single minded devotion to his craft and the incredible skill he was able to demonstrate at the plate.  Even more fascinating was the fact that his professional career in baseball was interrupted by a distinguished record as a pilot in the second world war.  Williams devoted the same energy to flying planes as he did to swinging a bat.  It's incredible to think about the records he'd have shattered had his career not been split in two.
And so, this is a mixed review.  My recommendation to anyone wanting to read this book is to skip the chapters on Kinsey and Dewey, and to read the other five.  You won't be sorry if you do so, and you may be sorry if you don't.