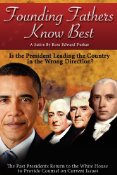 Founding Fathers Know Best is based on an interesting premise, the dead presidents club sends Thomas Jefferson, John Adams and James Madison for a week-long visit to provide counsel to the current denizen of the White House – President Ob.
Obligatory disclaimers aside, there is absolutely no doubt that President Obama is the presidential recipient of the founding father trio's advice.  In seven consecutive sessions the presidential team gives President Ob a piece of their minds.  The lectures take the form of quasi-essays recapping the failure and culpability President Ob(ama) in his abuse of power, cronyism, and the results of his socialist agenda.
Most of these lectures are quite good.  During the first "session" one of the topics covered is racism.  It was gratifying to read how the author laid out the historical record of Democratic racism, from eugenics to Jim Crow.  The chapter concludes with the Founders turning the table and showing how Ob(ama)'s policies further racism.  By continually demeaning blacks as being incapable of what whites are capable of (without government assistance) the left patronizes blacks and keeps them beholden to government.
This theme is continued in the section on entitlement programs.  Jefferson remarks,
The President and Congress insult a man when they tell him he can't do things for himself.  They offend a man when they imply he cannot take care of himself and his family.  The slight a man when they submit he's not smart enough, good enough, or tough enough to make it without help from the government.
In the session covering the environment, the ex-presidents make an impassioned plea for a sane energy policy.  Their arguments are largely persuasive, although in this reader's opinion the author has bought in too much to the environmentalist propaganda in some respects.
The book covers quite a few topics and makes numerous specific policy recommendations, none of which would likely be taken up by President Ob.  For the most part, it is a cogent, well-argued assessment of a really bad presidential administration.  In fact, it's almost a shame that there are no footnotes.
The author's libertarian views come through in the chapter on Islam.  Unfortunately what could have been one of the most powerful chapters in the book was somewhat spoiled by arguments of moral equivalency.  While the author certainly makes no excuses for Islam, he does draw parallels with Christianity, asserting in not so many words that it is little better than a superstition.
Many religions continue to be adamantly homophobic.  They choose to ignore that among most modern genetic scientists, the issue has been resolved.  Most men of reason believe sexual orientation is determined at birth and not chosen by individuals.  
In contrasting "moderate Christians" who don't really go to church, read the Bible, or proselytize, with so called "moderate Muslim,." he (inadvertently) extends this moral equivalency argument further.  Christians who don't really believe or practice what they preach are viewed as good models for non-radical muslims.   However, the chapter is redeemed by a good job (through his presidential proxies) of explaining that Islam is more than a religion, it is governance as well.
Founding Fathers Know Best manages to capture the quintessential hubris of President Obama through the thinly disguised fictional President Ob.  The lectures given by the team of Adams, Jefferson and Madison are thorough, and for the most part well-reasoned good advice that the real President Obama would do well to follow.  Unfortunately, he is no more likely to do so than his fictional counterpart.