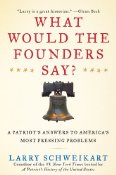 A Patriot's Answer to America's Most Pressing Problems
It is relatively easy for a politician or opinion-maker to get a Founder to put a metaphorical arm around their shoulder by quoting something that Founder once said that seems to be in agreement with an advocated position. The unscrupulous can even take a quote out of context, or project a minority opinion and claim it was universal. Many, including this blog, try to project the Founders' thinking onto modern problems, but in truth, almost any opinion can find a substantiating quote by one of the Founders.
Larry Schweikart has done Americans a huge service in writing What Would The Founders Say? He has consolidated the opinions of multiple Founders about perennial issues that range from religion to gun control. Reading this book, you will discover that the Founders not only varied in their opinions, they sometimes changed their minds after debate and reflection.
Schweikart is the co-author of the New York Times #1 bestseller, A Patriot's History of the United States. He writes in a straightforward style that makes the material easy to understand. Unlike many historians, he does not use esoteric or antiquated words to impress colleagues. He is also unafraid of using the period as punctuation. (Many historians have so many caveats and qualifications to any statement that their sentences run on like a legal brief.)
He has broken his book into ten chapters, each dedicated to a specific issue with extensive quotes from numerous Founders. When the Founders disagreed, he presents their differences and the rationale for their respective positions. Schweikart references state statutes, state constitutions, philosophers that influenced the Founders, and personal letters, as well as the national founding documents and related writings. All of the Founders' words are presented as they related to the events of their time. Only in the concluding paragraphs of each chapter does Schweikart try to project their opinions onto current events. Whether the reader agrees or disagrees with Schweikart's conclusions, he or she will come away with a good grasp of what our forefathers thought about the issues they faced in founding a great republic.
Although Schweikart acknowledges that the Founders did not agree on everything, he writes, "Remarkably, there was almost no disagreement among the Founders—even among such polar opposites as Hamilton and Jefferson—that freedom was good and tyranny was bad. That seems an obvious statement on the surface, yet modern Americans daily are confronted by policies enacted by local, state, and federal representatives who see freedom as a threat and greater government control as desirable."
By the end of What Would The Founders Say?, the reader comes to feel he knows the Founders better than current politicians. The Founders spoke more forthrightly, did not abandon their principals, and always felt a responsibility toward their fellow citizens and posterity. Perhaps we should use this same yardstick to find modern politicians that can get us out of our current mess. At least, we should consider the Founders thinking on the issues we face today. Schweikart concludes his book by writing, "Many paid a heavy price for their courage. At the very least, we owe them the courtesy of a virtual consultation about every policy. They earned that much."
James D. Best is the author of Tempest at Dawn, a novel about the 1787 Constitutional Convention.