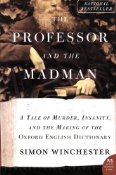 Simon Winchester's short biography of two interesting men who were key in the creation of the Oxford English Dictionary, is put together in a style reminiscent of that employed in The Knife Man, by Wendy Moore. As one might expect of a book in which the story revolves around the creation of a dictionary, each chapter is prefaced with a word and it's definition. The word in each case pertains to a theme in the chapter. It's interesting because the reason for the choice of word is not always evident until the reader is well into the chapter. This is a small thing, but for bibliophiles, it's a nice touch, and one can appreciate the care that went into the organization and layout of the book.
But there is a lot more to this book than an interesting layout. Winchester provides a glimpse into the history of dictionaries in England and their importance in codifying and unifying the language. In one of his examples, he explains that in Shakespeare's time there was no dictionary available for the famous bard. It was impossible to just "look something up."
Shakespeare was not even able to perform a function that we consider today as perfectly normal and ordinary a function as reading itself. He could not, as the saying goes, "look something up." Indeed the very phrase — when it is used in the sense of "searching for something in a dictionary or encyclopedia or other book of reference" — simply did not exist. It does not appear in the English language, in fact, until as late as 1692, when an Oxford historian named Anthony Wood used it.
Although Shakespeare's vocabulary was undoubtedly prodigious, he was not completely without resources, though no dictionary yet existed.
At the time he was writing there were atlases aplenty, there were prayer books, Missals, histories, biographies, romances, and books of science and art. Shakespeare is thought to have drawn many of his classical allusions from a specialized Thesaurus that had been compiled by a man named Thomas Cooper–it's many errors are replicated far too exactly in the plays for it to be a coincidence–and he is thought to have drawn from Thomas Wilson's Arte of Rhetorique. But that was all; there were no other literary, linguistic, and lexical conveniences available.

In 16th century England, dictionaries as we would recognize today simply did not exist. If the language that so inspired Shakespeare had limits, if it's words had definable origins, spellings, pronunciations, meanings–then no single book existed that established them, to find them, and set them down. It is perhaps difficult to imagine so creative a mind working without a single work of lexicographical reference beside him, other than Mr. Cooper's crib (which Mrs. Cooper once threw into the fire, prompting the great man to begin all over again) … The English language was spoken and written–but at the time of Shakespeare it was not defined, not fixed. It was like the air — it was taken for granted, the medium that enveloped and defined all Britons. But as to exactly what it was, what its components were–who knew?
In the 17th and 18th Centuries, too late for Shakespeare, this unfilled need for a language reference began to get some attention. However, initially the dictionaries produced tended to focus on the obscure or presumably sophisticated words of the English language, rather than attempting to provide a comprehensive reference.
Throughout the seventeenth century these books tended to concentrate, as Cawdrey's first offering had, on what were called "hard words" — words that were not in common, everyday use, or else words that had been invented specifically to impress others, the so-called "inkhorn terms" with which the sixteenth-and seventeenth-century books seem a well larded.
The great Samuel Johnson's dictionary was as much a work of literature as it was a reference. Winchester uses Johnson's definition for elephant to illustrate this point.
The largest of all quadrupeds, of whose sagacity, faithfulness, prudence and even understanding, many surprising relations are given. This animal is not carnivorous, but feeds on hay, herbs and all sorts of pulse; and it is said to be extremely long lifed. It is naturally very gentle; but when enraged, no creature is more terrible. He is supplied with a trunk, or long hollow cartilage, like a large trumpet, which hangs between his teeth, and serves him for hands; by one blow with his trunk he will kill a camel or a horse, and will raise of prodigious weight with it. His teeth are the ivories so well known in Europe, some of which have been seen as large as a man's thigh, and a fathom in length. Wild elephants are taken with the help of a female ready for the male; she is confined to a narrow place, round which pits were dug; these being covered with a little earth scattered over hurdles, the male elephant easily falls into the snare. In copulation the female receives the male line upon her back: and such is his pudicity, that he never covers the female so long as anyone appears in sight.
The Oxford English Dictionary shares some of this literary heritage, not because the definitions are as prosaic as Johnson's, but because of the methodology employed in its construction. Instead of providing a mere selection of the language, as brilliantly compiled as Johnson's was, it sought to comprehensively define the language using examples from English literature.
… While Johnson had presented a selection of the language — and an enormous selection at that, brilliantly fashioned — this new project would present all of it: every word, every nuance, every shading of meaning and spelling and pronunciation, every twist of etymology, every possible illustrative citation from every English author.
Enter Dr. William Minor. It might be possible to say that the OED was the world's first example of crowd-sourcing. At the onset of the project, a massively underestimated effort, volunteers were sought for reading books written in specific eras of English history. Flyers were distributed via booksellers, explaining the project and soliciting the assistance of the learned public.
And sometime in the early 1880s one copy, at least, left inside a book or slip between the pages of a learned journal, found its way to one of two large cells on the top floor of block two of the Broadmoor Asylum for the Criminally Insane in Crowthorne, Berkshire. It was read, voraciously by William Minor, a man for whom books, with which one of his two cells was lined from floor to ceiling, had become a second life.
Minor was an American Doctor, a veteran of the Civil War, who had became mentally unstable during that conflict. He suffered from paranoid delusions and had gone on holiday to England after the war, trying to rest his troubled mind with leisure and travel. Unfortunately, his delusions of persecution (he thought that people were breaking into his room and molesting him in the middle of the night,) got the better of him. Waking from a restless sleep, he ran out of doors clutching a pistol, and stumbled upon George Merrett, an innocent farmer's son, who had come to the big city for work. Merrett was on his way to work, shoveling coal in the Red Lion Brewery, when a crazed Minor shot and killed him, thinking that he had finally caught one of his nameless assailants.
Minor was found to be insane and was incarcerated within Broadmoor Asylum for the Criminally Insane. As an educated man, a medical doctor in fact, coming from a wealthy family in America, and a U.S. veteran, he was accorded some nice privileges in the asylum. After being evaluated, it was determined that he did not have to be lodged with the more dangerous and difficult cases. He had his pension from the U.S. Government, and was permitted to hire another inmate to do menial chores. He was also permitted to have bookshelves installed in one of his rooms, which he used as a study. He filled the shelves of this library with books, some of which were, ironically delivered by the widow of the man whose murder had resulted in his incarceration. Minor felt extreme remorse for what he had done, and tried to make amends. Eventually, Eliza Merrett forgave him and even visited him for a few years, picking up his purchases from booksellers. For his part, he provided money for the support of Mrs. Merrett and her seven children. Sadly, she never really recovered from her loss, and took to drink, dying a few years later of liver failure.
Minor was uniquely qualified and situated to become an invaluable asset to the dictionary team. He was a scholar in his own right, very intelligent, and had lots of time on his hands. The work was tedious and exacting – find words in old tomes, document their use and location, and note it on small slips of paper, which Minor would then mail to his outside colleagues for organization and cataloging. From the onset, Minor wanted to be part of the effort and sought to keep just ahead of the compilers, so as to be ready with quotations and citations. (The dictionary was printed in chunks, going alphabetically.) He anticipated their requests, and quickly became an indispensable resource.
The Professor and the Madman is the story of the collaboration between the quiet Scotsman James Murray, the man who led the project to create the OED, and one of his most important volunteers, an insane American doctor. For several years, Minor worked in relative obscurity. His work was noted and appreciated, but little thought was given to who this amazing contributor might have been. By the time that Murray realized the circumstances of Minor's life, he had already been corresponding with him for quite a while. Eventually he went to meet the mysterious Minor and the two formed a friendship which remained over the course of the project and even their lives, spanning decades. Winchester surmises that Minor's participation in the project was a kind of therapy.
In a sense doing all those dictionary slips was his medication; in a way they became his therapy. The routine of his quiet and cell-bound intellectual stimulus, month upon month, year by year, appears to have provided him with at least a measure of release from his paranoia. His sad situation only worsened when that stimulus was gone: when the great books ceased to function as his loadstone, when the one fixed point on which his remarkable but tortured brain was able to concentrate became detached, so then he began to spiral downward, and his life began to ebb.

One must feel a strange sense of gratitude, then, that history was never good enough to divert him from his work. The agonies that he must have suffered in those terrible asylum nights have granted us all a benefit for all time. He was mad, and for that we have a reason to be glad. A truly savage irony, on which it is discomforting to dwell.
Well, if nothing else, we can be grateful for Winchester's interesting recounting of the story of the creation of the most important English Dictionary ever compiled.