The American Republic will endure until the day Congress discovers that it can bribe the public with the public's money. ― Alexis de Tocqueville
The biggest hoax in history may be the Patient Affordability Care Act. Here are just a few of the lies that were used to justify the legislation.
Lies 1, 2, 3: The Patient Affordability Care Act (ACA) will provide coverage for the estimated 40 million uninsured while simultaneously reducing the deficit and lowering every Americans healthcare costs.
This law will cut costs and make coverage more affordable for families and small businesses. It's reform that brings — that begins to bring down our government's long-term structural deficit. It's reform that finally extends the opportunity to purchase coverage to the millions who currently don't have it — and includes tough new consumer protections to guarantee greater stability, security and control for the millions who do have health insurance. — President Obama, June 22, 2010
The Truth: Heathcare coverage under the ACA will far exceed $1 trillion after new taxes, healthcare costs continue to accelerate, and tens of millions will remain uninsured.
The Congressional Budget Office "now estimate that the insurance coverage provisions of the ACA will have a net cost of just under $1.1 trillion over the 2012–2021 period.[i]" The Senate Budget Committee estimates Obamacare will cost $2.6 trillion dollars in its first real decade.
Projected managed care cost trends for 2012 range from an increase of "9.6 percent to 10.4 percent"[ii]
Compared with prior law, the CBO now estimates that ACA will leave 26 million to 27 million non-elderly residents uninsured[iii] The Supreme Court just ruled that  mandatory Medicaid expansion is unconstitutional, so this number will expand.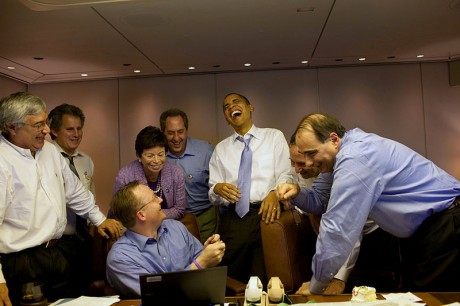 Lie 4: Â The ACA will not increase taxes on individuals making under $200,000 a year.
I can make a firm pledge. Under my plan, no family making less than $250,000 a year will see any form of tax increase. Not your income tax, not your payroll tax, not your capital gains taxes, not any of your taxes.
The Truth:Â  ACA costs will be paid primarily by taxes on the middle class
The Supreme Court has ruled the penalties for those who fail to buy health insurance are taxes and it is the taxing authority of Congress that makes the ACA constitutional.
Again, whatever you want to call it, fines, taxes, penalties, but three quarters of those costs will fall on the backs of families who make less than $120,000 a year, so it's a big punch in the stomach to middle class families. –  Senior Wall Street Journal Economics Writer Stephen Moore
Lie 5: If you like the insurance you have, you can keep it.
If you like your health care plan, you can keep your health care plan.  President Obama, 2009
The Truth: Many people will lose their current coverage and be forced into a government plan
Provisions in ACA will require the eleven million people with Health Savings Accounts to seek a new policy which will have dramatically higher rates due to mandates.
Provisions in ACA will make Medicare Advantage untenable. The ACA cuts more than $200 billion from the Medicare Advantage program which will result in seniors facing higher premiums; a reduction in additional benefits; fewer health care choices; and higher out-of-pocket costs as well. CBO is projecting MA enrollment declines from 11.7 million enrollees in 2011 to 7.5 million in 2018. CBO is projecting MA enrollment decreases from 24% today to 13% in 2019.
The Chamber of Commerce estimates that at least twenty million people will lose their employer provided healthcare.[iv] Some have challenged this estimate as extreme, but a footnote to March 2012 CBO report says: "Shortly, CBO will release an extensive analysis conducted with JCT of the incentives for firms to offer or not offer health insurance under the ACA, as well as a range of estimates of sources of coverage and federal budgetary outcomes that would result from the ACA under alternative assumptions about employers' behavior." As yet, there has been no analysis published
We said from the start that … if you want to keep the health insurance you got, you can keep it, that you're not going to have anybody getting in between you and your doctor in your decision making. And I think that some of the provisions that got snuck in might have violated that pledge. — President Obama
Lie 6: There will no Federal financing that tramples the rights of conscience. There will be no federal financing of abortion.
In recapping a meeting with President Obama, Cardinal Timothy Dolan said, "I've heard you say … that you take the protection of the rights of conscience with the utmost seriousness. . . . Does that accurately sum up our conversation?" He claims President Obama said, "You bet it does.""[v]
The Truth: Obama mandated that religious organizations provide contraceptives, abortifacients, and sterilization services at no cost to all employees.
No, the mandates remain. We're more or less giving you this time to find out how you're going to be able to comply. –Â  President Obama, per Cardinal Dolan.
Health and Human Services Secretary Kathleen Sebelius claimed that the "contraception rule respects religion," saying the decision "strikes a balance between respecting religious freedom and increasing access to important preventive services."[vi]
Lie 7: The ACA will not support illegal aliens
There were also those who would claim that our reform efforts would insure illegal immigrants. This too is false. The reforms I am proposing would not apply to those who are here illegally. — President Obama
The Truth: Illegal immigrants will receive coverage under ACA
Through an Executive Order, President Obama gave 1.4 million illegal immigrants legal status. The law reads, "Aliens who are "lawfully present in the United States" are subject to the health insurance mandate."[vii]
Many expect law suits in the next few years to provide access to ACA by the remaining illegal immigrants.
I know I missed a lot, so feel free to chime in with additional falsehoods.
As a final note: I may just be paranoid, but what happened to the word patient in the Patient Affordability Care Act. It is now always referred to as ACA. Shouldn't the government call it the PACA? Maybe they understand more than us mere peasants.
James D. Best is the author of the Steve Dancy Tales and Tempest at Dawn, a novel about the 1787 Constitutional Convention. Look for his new book, Principled Action, Lessons from the Origins of the American Republic.