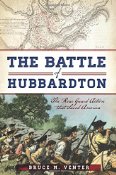 First a little background.  Battle of Hubbardton took place in the midst of Lieutenant General John Burgoyne's 1777 campaign to capture Albany.  Burgoyne's army was to be the top half of an envisioned pincer movement to capture Albany, with General Clinton coming up from the south.    After taking Fort Ticonderoga, basically without firing a shot, Burgoyne sent his ambitious subordinate, Brigadier General Simon Fraser after the fleeing American Army. American Major General Arthur St. Clair assigned Seth Warner to guard his retreat, and follow within a day or so behind the main force.
This book recounts how Colonel Seth Warner fulfilled those orders and explores the rear-guard action that was fought among the hills of Hubbardton, Vermont … and it does so while packing an academic punch. The Battle of Hubbardton, author Bruce Venter, boldly proclaims on the rear cover as "perhaps the loss that saved the war." Â  The subtitle on the front cover doesn't even hedge with a "perhaps," pronouncing: "The Rear Guard Action That Saved America." Â This is the thesis of Venter's book and he does a good job defending it. But that isn't where the "punch" comes into play. Â Venter goes after sloppy historians who are too content to blindly accept a contemporary account – merely because it is contemporary. Â In particular, the account of Thomas Anburey has had far reaching (and deleterious) effects on subsequent scholarship on the Battle of Hubbardton.
For instance many scholars have carelessly accepted the notion that the British troops spent time scaling a mountain clearly out of the way, and nowhere near the battle, merely because it was mentioned in Anburey's account.  Venter surveyed the area in person and points out that there would have been no reason for British troops to go so far out of the way to climb a mountain nowhere near the battle site!
Venter relies heavily on the scholarly work presented in the article Thomas Anburey at the Battle of Hubbardton: How a Fraudulent Source Misled Historians.  (A very interesting article!)  Venter takes a hard look at some of the scholarship of those who have based conclusions on Anburey's writings without critically analyzing some of Anburey's contentions.  As it turns out, Anburey's "recollections" are suspect and his account is filled with plagiarism!    The paper linked to above shows how this one source has crept into numerous books and accounts and has tainted their accuracy.
But, Venter also points out that there is no substitute for critical thinking and looking at the site of the battle – first hand. Â Unlike many historic battlefields, the Hubbardton site has not been developed and the ground is much as it would have been then. Â There is really no excuse for not checking it out.
Students of the Battle of Hubbardton, or for any battle for that matter, should realize that there is no substitute for a personal investigation of the ground to test the logic of sources like Anburey. Â In modern military parlance, this would mean a "staff ride," where the written word is tested against existing geographic features like Mount Zion.
Academic pugilism aside, Venter provides a great overview of some of the characters involved in the battle, including:
On the British Side
Brigadier General Simon Fraser
Major General Baron Friedrich Adolphus von Riedesel
Major Robert Grant
Major Alexander Lindsay
On the American Side
Major General Arthur St. Clair
Colonel Seth Warner
Colonel Ebenezer Francis
Colonel Nathan Hale
On the American side, Venter defends and explains the reasons why Colonel Seth Warner chose to rest his men overnight at Hubbardton, rather to to strictly comply with his commander's orders and follow on more rapidly. Â Warner comes in for some light criticism, but over all, he fares well in Venter's estimation.
Warner's British counterpart, General Simon Fraser, gets a more mixed treatment by Venter. Â On the one hand, Fraser was an enterprising and ambitious officer, just the sort favored by Burgoyne. Â Fraser was determined to make a name for himself and wipe out the rebel rear guard – all by himself – if necessary. His vanity and ego made him suspicious and petty with respect to the man that saved his bacon, and made Hubbardton a tactical victory for British, Baron Von Riedesel.
In reading the account, one thing that struck this author was the symmetry between the actors on both sides and the quickly shifting balance favoring first one side and then the other. The importance of leadership and character is shown very clearly.  Seth Warner's loss delayed Burgoyne's forces, weakened their strength, and ensured that there would be an army to fight at Saratoga.