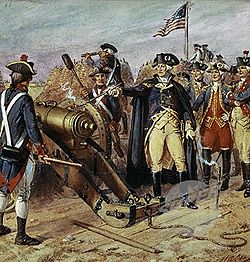 On this day in American history the Revolutionary War effectively ended with the surrender of Cornwallis at Yorktown.  The Yorktown campaign proved to be the last major battle of the war.  General Cornwallis's commanding officer in New York, General Clinton ordered Cornwallis to secure a deep water port, which he proceeded to do at Yorktown.
Washington, in conjunction with the French, began a campaign of deception to convince Clinton that an attack on New York was imminent.   He ordered the building of huge brick ovens  -  visible from New York – to help give the appearance that his army was in for the long haul and preparing to attack New York.  The wily Washington also prepared some phony papers indicating plans for an attack on Clinton bearing his signature and let them fall "inadvertently" into British hands.
Meanwhile his troops beat feet to Yorktown.  By the end of September, American and French troops besieged Yorktown with more than double the British force holding Yorktown.
The French fleet, commanded by the French Admiral de Grasse, blocked any escape routes out of the Chesapeake Bay.  At the end of September de Grasse defeated the British fleet sent to relieve Cornwallis, at the Battle of the Chesapeake.  De Grasse was an interesting giant of a man who, legend has it, on meeting Washington, embraced him in a bear hug and called him "mon petit general."  Washington generally didn't like to be touched and was anything but petit.  (Witnesses rather enjoyed the discomfort of the stoic Washington.)  Ironically, this hero of the American Revolution never actually set foot in the United States.
Another Frenchman, General Count William Deux-Ponts was assigned to take British redoubt No. 9 and Colonel Alexander Hamilton finally got his shot at command in taking redoubt No. 10.  Hamilton practically had to beg Washington for his opportunity to be a hero.
In the aftermath of the battle more than 7 thousand British soldiers were captured.  Cornwallis was so mortified by the loss that he sent an aid to surrender to Washington, pleading illness.  Washington, ever conscious of propriety, had a subordinate accept the surrender.
While the British band played an English ballad called, The World Turned Upside Down, British troops marched out between two lines of French and American soldiers and laid down their arms in a field.   Little did they know that on that very day, the 19th of October 1781, Clinton finally sent the long-awaited reinforcements from New York – 5,000 troops.  But it was too late.  The Revolution was, for all intents and purposes, over.   The United States had won!