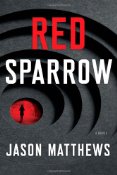 Red Sparrow is a new spy novel by Jason Matthews.  It's new and fresh in every sense.  Although I haven't read Le Carre and some of the other masters of the genre, I have read a fair number of spy thrillers by authors like Ian Fleming, Alistair Maclean, Robert Moss, Daniel De Silva and of course Len Deighton's series Game, Set, Match, Hook, Line, Sinker, and his masterpiece Winter.  Additionally, I've read all of Tom Clancy's books (before he started farming them out to quasi ghost writers -don't you hate successful authors like Clancy and Cussler who can't be bothered to write their own books any more?).   Anyway, while perhaps unqualified as a connoisseur of the genre, I can definitively say that this book has a ring of authenticity and freshness about it for several reasons.
The first of these reasons is that the story takes place in present day.  This is no cold-war spy story.  It's a "ripped from the headlines" spy story with Russia cast as the heavy, reset buttons be damned.   Russia's President Putin even figures in Matthews' tale as a nasty, narcissistic throwback to his Soviet predecessors.
While Putin is the only living person who is actually represented by name in the book, it doesn't seem a stretch to imagine that Nancy Pelosi was the model for an American Senator who figures into the story.
The next reason that the books seems fresh is because of  the ring of authenticity that sounds in the way Matthews tells his story.  It made this reader wonder if he had to have it vetted by the CIA before publishing it.  After all, Matthews is a retired spook, himself, who served as Chief of Station in several foreign countries.  His knowledge of Russian also seems authentic rather than contrived as deftly sprinkled here and there at various points in the story.
Matthews' characters are realistic and interesting.  They aren't larger than life.  His protagonists falter and make mistakes, and his antagonists aren't easily duped.
Red Sparrow reads quickly and entertains from start to end.  It's a melancholy tale with a gritty ending.
But don't read this book when you're hungry.    Every chapter features characters interacting over food and at the end of each, Matthews provides the recipe.  Most of them seem quite good.
Hopefully, Matthews will write another book, for Red Sparrow left this reader hungry for more.