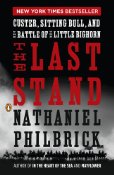 About a month ago, my wife and I took a road trip with some good friends through many of the Westerns states.  We visited Nevada, Utah, Idaho, Montana, Wyoming, South Dakota, and Nebraska.  One of the highlights was a visit to the Little Bighorn Battlefield National Monument.
Every time I visit a historic site, I end up buying at least one book about the events that took place at the location.  I wanted to buy only one book about the battle because we had already visited so many sites that I was weighing down the motorhome.  The store at the National Monument had dozens upon dozens of books on Custer, the battle, Crazy Horse, and Sitting Bull.  I spent some time going through them and ended up taking two to the clerk for a recommendation.  The two books were The Last Stand, Custer, Sitting Bull, and The Battle of Little Bighorn, by Nathaniel Philbrick, and Crazy Horse and Custer: The Parallel Lives of Two American Warriors, by Stephen E. Ambrose.
The clerk had obviously read both books and told me that the Ambrose book was a duel biography of Custer and Crazy Horse, while Philbrick's book was more focused on the battle instead of the men.  I had read many books by Ambrose and almost bought it, but at the last moment decided I wanted to learn about the battle.
I should have known better.  When I study the founding period, I prefer to read about the Constitutional Convention, rather than the Revolution.  When I study the Civil War, I prefer political histories like Team of Rivals by Doris Kearns Goodwin to books dedicated to specific battles or the war in general.  The Ambrose book would probably have been a better choice for me.  Not for everyone, however.  My guess is that anyone interested in the battles will be enthralled by the detail in The Last Stand.  Philbrick does an excellent job of describing the various engagements by Custer, Reno, and Benteen—giving the reader almost hour-by-hour accounts.  This would be a great book to read prior to visiting the battlefield and taking the driving tour.  Unfortunately, I didn't get to The Last Stand until I was home, so I didn't have the advantage of walking the landscape to make Philbrick's book come to life.
I did have a couple disappointments with The Last Stand.  The explanation of Sitting Bull's battle strategy seemed to be presented piecemeal, and the conclusion of the book came across as hurried and disjointed. Otherwise, this is a exceptionally well-researched book that is very readable.  Although I did not buy Crazy Horse and Custer, I feel that it would be a great companion book for Little Bighorn enthusiasts.