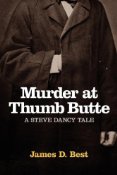 Jim isn't one to toot his own horn, but I don't labor any such restraints.  Jim's most recent western, Murder at Thumb Butte has just been released.  It's available in paperback and downloadable forms.  I met Jim after having discovered his historical novel, Tempest at Dawn, (reviewed here) a novel that gives insights into the Constitutional Convention, based on a close reading of Madison's Convention notes.  Jim's latest book, however, is a western, and is the third book in his popular Steve Dancy series.
Murder at Thumb Butte
 can be purchased with 24-hour shipping or ordered at any bookstore.  It is also available on the
Kindle
, Nook, iPad, as well as on any device that supports the Kindle app.  (It may take another month for the Sony Reader.)  A large print edition will be available in January, 2012, and an audio edition some time next Spring.
I hope you'll support Jim (and WWTFT) by purchasing his books through the links provided above!