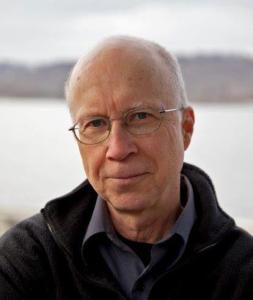 Once again, WWTFT has been fortunate enough to get to speak with another fine author. Jack Kelly has written a book (Band of Giants) that appealed to this reader/reviewer so much, that asking a few questions seemed like a necessity!  Fortunately, Mr. Kelly was kind enough to oblige.
What inspired you to write this book? I loved the dedication, did having an ancestor who fought in the Revolution have anything do do with it?
I always considered the story of the Revolutionary War to be one of the most suspenseful, gritty, and flat-out fascinating stories in world history. It's also a tale peopled by a wonderful cast of diverse characters. Having an ancestor involved made it that much more personal to me.
Did your ancestor Edmund Kelly leave behind any family lore?
I was able to obtain his pension applications, which document the poverty he experienced after the war. Like many soldiers, he was given a grant of land on the frontier. But lacking the means to take possession, he sold it for pennies on the dollar.
How long did it take you write this book and what was your process?
I spent about three years on the research and writing combined. I worked with the major biographies of the characters, consulted the primary sources, and visited battlefields and museums.
As is my habit, I read through your bibliography. Despite having spent the last 5 years largely restricting my reading to histories and biographies of this time period in America, I haven't read but a handful of the books cited. How did you arrive at these particular selections?
There are many excellent books about the revolutionary era, and much of the primary material was published in book form during the bicentennial. I listed the sources I found most useful. In my own book I tried to fill a niche: a concise, character-driven narrative of the war. I think Band of Giants works very well as an introduction to the entire war. Even readers knowledgeable about the era have said they learned something new. One reader said she was moved to tears by the book; that's gratifying praise for an author.
It's been my experience in interviewing authors, that writers are readers. What are some of the best books you've read? Surprising gems? I know that's a tough question! (But personally, I'm always looking for bits of information with which I can prioritize.)
Personally, I like the biographies of the major Revolutionary War figures, and I've listed the best ones in the Band of Giants bibliography. We live in a kind of golden era of creative nonfiction. Off hand, I would cite Katherine Boo's Behind the Beautiful Forevers as a book that rises to the level of literature. Two non-Revolutionary books I recommend for an understanding of war in general are John Keegan's The Face of Battle, and David Finkel's Thank You For Your Service.
I understand that there is always a tendency to view historical events and persons through the lens of a modern perspective. Still, people are people. What do you think is the most important take-away from the experiences of your "giants" that is applicable for today?
The most surprising aspect of the war to me was the treatment of Continental Army soldiers and officers during and after the war. The troops often went unpaid. They were poorly supplied. Promises were broken. The attitude of many citizens became one of contempt for the veterans who had won America's independence. Today we've seen repeated scandals in the Veteran's Administration and the failure to adequately address the needs of our fighting men and women when they return from deployments. War is costly and caring for veterans is one of the most important costs. We need to bear the burden.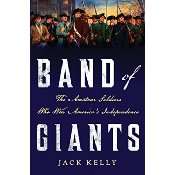 You chose a great theme for this book. I have read a number of books which focused on a quasi familial aspect of this set of people, books like Founding Brothers and more recently Sons of the Father: George Washington and His Proteges. But you managed to identify a unique take on this – what I would call the second tier, motivated amateurs. How did you come to identify this?
Interestingly, in the armies of of the time, a general's aides were known as his military family. I started out with the question, Why do most citizens today know so few Revolutionary War generals? Washington is of course famous. After him, Benedict Arnold it probably the best known. But Knox, Morgan, Wayne, Greene and others are virtually unknown. Part of my plan was to revive their reputations in the context of the story of the war.
I think one of Washington's many impressive qualities was his ability to recognize talent, even in its raw form. Clearly, he was "the indispensable man," as he has often been called. Your book spans the entire revolution and one commonality shared by most of the "giants" was their relationship with him. What other traits did they share?'
First, they shared a devotion to the cause. None had to serve and an officer could, at any time, resign his commission and walk away. Second, they shared a sense of honor, part of the complex code of behavior prevalent during the era. This sometimes became a hindrance as officers took umbrage at a lack of deserved recognition and went home to brood. Washington had his hands full trying to keep all his touchy officers happy.
When I said most, I would have to consider Joseph Plumb Martin as one of this group. His famous memoir, parts of which had been doubted, but have now been surprisingly verified, indicates that he fought for pretty much the entire Revolution. For that reason alone, I would grant him "giant" status. Do you concur?
Yes, and I think he serves as a symbol of the many thousands of men who served in the ranks for the duration. We're fortunate to have Martin's colorful, detailed and witty memoir to remind us of the tremendous sacrifices that were made by the soldiers and their families. Lafayette used the term "band of giants" to refer to the physically large men who came from the back country to reinforce his troops in Virginia. I broaden the meaning to include all of those who took the enormous risk to fight for an uncertain cause, who endured and prevailed.
Your book covers a lot of material, very quickly, but remarkably well for all its brevity. What did you have to leave out?
One of the difficult parts of the writing was to condense the eight-year war into a succinct, readable narrative. I was sorry to have to leave out the wonderful exploits of John Paul Jones. Nor did I cover in depth the complicated fighting on the frontier. I tried at least to touch on the main facets of the war, including the war in the South, which has often been neglected.
You are not an academic, so I can ask you a non-academic question! You did, after, all entitle your book Band of Giants, which implies a bit of judgement as to their quality and merits. So, which "giant" was your favorite? I could not read Band of Giants without developing some partiality for Knox.
One aspect of the writing that surprised me was that almost every character had some appealing and interesting facet. Knox, because of his intelligence and wit, is certainly empathetic to modern readers. My own favorite is Daniel Morgan. In many ways, he's the most American of the officers. As a backwoodsman, someone we might call a hillbilly today, Morgan represented a class of people unknown in Europe: poor but fiercely independent, crude but very savvy, used to living rough, and a crack shot with a rifle. During the war he proved himself an instinctive tactician, an astute judge of men and a natural leader.
One of the most interesting things came through both in your book and in my reading in general, is that there was such a superabundance of high caliber people in America at that time. Do you agree? If so, to what do you attribute this?
No, I reject the "greatest generation" concept, whether referring to those who fought in the Revolutionary War or World War II. Highly capable people exist in every generation. Different historical circumstances bring out different talents and qualities. The cause that mobilized the founding generation, the substitution of democratic rule for royalty and aristocratic privilege, appealed to the most talented and committed people of the time.
What didn't I ask you that I should have?
You didn't ask why Mad Anthony Wayne was called "Mad." Readers can find the answer in Band of Giants.*
What is your next project?
I'm writing a book that looks at the spiritual aspects of the Erie Canal. It covers the deep changes the nation was undergoing during the 1820s and 1830s as subsistence agriculture was giving way to a market economy. An anxiety-ridden population looked to religion for answers in ways that have shaped the American character ever since. All along the canal, Evangelical Christianity flourished, the Mormon religion was born, and people went through a period of intense spiritual searching. It was a wild, visionary time in America. With luck, the book will be available Spring 2016.
*Note:"Mad" Anthony Wayne is another of this reviewer's favorite characters. He was good friends with John Barry, and was one of the subjects in Sons of The Father. He wasn't crazy, but he was fearless. Read Mr. Kelly's book to find out more.