Defense Secretary Leon Panetta and Gen. Martin Dempsey, Chairman of the Joint Chiefs of Staff, testified that President Obama did not contact them the night that four Americans, including Ambassador Chris Stevens, were killed in the attack on the U.S. consulate in Benghazi, Libya.
Former Sec. of State Clinton said she was not involved in generating the misleading information given the public about the perpetrators of the attack.
Clinton also denied knowledge of multiple appeals for help from the Consulate prior to the attack.
Panetta and General Dempsey said the State Department did not request help for the Americans under attack.  (Of course the president would have had the final word about whether to send in the military.)
Sequester
It wasn't Obama's idea. The devil, that is, Republicans made him do it.
While claiming to want to work with Republicans in Congress, the president was again absent. He was flying around the country giving speeches and bad-mouthing Republicans.
But he wasn't the only one AWOL. Congress adjourned until Feb. 25 for its Washington's Day recess, leaving just four days on its return to deal with sequestration.

Despite saying (over and over again) that sequester would cut vital programs, President Obama rejected a Republican bill that would give him additional flexibility in deciding where cuts should be made.
Secretary of Homeland Security Janet Napolitano says she had no part in the release of 2000 possibly criminal (news reports differ) illegal aliens prior to sequester. The decision, she said, was "made in the field."
Obama said he wasn't involved.
Congresswoman Maxine Waters (D-CA), present in body but apparently not in mind, claimed that the sequester will result in 170 million jobs lost. One small problem: According to the Bureau of Labor Statistics, there are only about 140 million jobs in the whole country!
Fast and Furious
Obama said his administration was not responsible for Fast and Furious. It was, (take a guess) the Bush administration.
Attorney General Eric Holder said he was not aware of the strategy and tactics used in "Fast and Furious."
Solyndra
The president denied being involved in the $500 million loan of taxpayers' money to Solyndra. Never mind some 20 trips Solyndra officials made to the White House between March 2009 and April 2011. (Maybe they were playing cards.) The fact that a major Solyndra investor just happens to be a big Obama donor is not relevant either.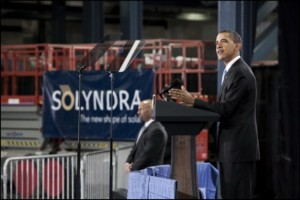 If the president was not responsible for any of the foregoing, what has he been doing?
Obviously not producing a budget for next year, now more than 7 weeks late.
He's been campaigning for yet another unaffordable entitlement program – universal pre-K education.
He changed his mind on same sex marriage and is advising the Supreme Court to overturn California's voter- approved ban.
He's been campaigning (isn't he always) for gun control legislation
He vacationed and polished his golf game.
Makes a person wonder who is running the country.