Disingenuous: not candid or sincere, typically by pretending that one knows less about something than one really does.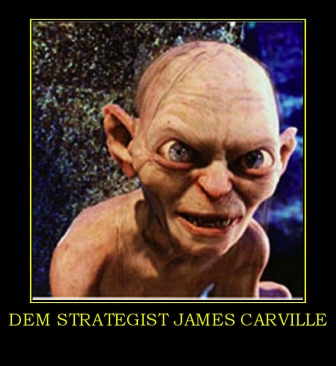 James Carville, political strategist, along with other Democratic Party advisors has recommended to President Barack Obama that he stop claiming economic growth during his presidency. Or so Carville told ABC's "Good Morning America" after Obama was criticized for saying the private sector was "doing fine."
Carville said, "people don't feel that or believe that."  He told ABC that such statements create a sense that Obama is out of touch with reality. Instead, Carville urged the president to "move to a new narrative," one that addresses what democrats will do for the middle class. He warned that a failure to change messages means facing   "an impossible head wind in November."
He characterized the effort to convince Americans "that things are good enough for those who have found jobs' as "a fool's errand."
So let's see if we understand what the president is supposed to do to win in November. What he's been saying isn't working. Therefore, party mavens want him to switch "narratives."
Switching narratives is nothing new for Obama. Remember when he promised the most transparent and ethical administration in history. Of course that was before the Affordable Health Care Act, Solyndra and Fast and Furious. That one disappeared almost before he got the presidential chair warm.
There was his vow, "If I don't have this done (the economy fixed) in three years, then this is going to be a one‑term proposition." It didn't take three years for that narrative to get shelved. Then there is his most recent effort to present himself as a fiscal conservative. That knee slapper didn't fly either. As Power Line points out, the claim "relies mainly on attributing the first year of the Obama administration, FY 2009, to President Bush. " That was the year of the "stimulus," and the enormous jump in discretionary spending which has continued to escalate with still more planned.
We could go on, but truth to tell, it's getting difficult to keep track of all the narratives that have been tried and discarded. It is just possible that those Americans who "don't feel " or " believe" Obama's claims about the economy, are concluding that there isn't much that the president says that they can believe, whatever the current narrative.
Well, Carville was right about the fool's errand part, anyway.