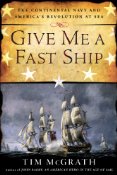 Prodigious is the best word to describe Tim McGrath's latest naval history. Give Me A Fast Ship tells the story of America's Navy as it sprang into existence during the Revolutionary War. In an awesome undertaking, McGrath covers the careers of every captain in America's nascent navy. One has only to peruse the bibliography to get a sense of McGrath's accomplishment.
Give Me A Fast Ship accomplishes several things (at least for this reviewer.)
After reading McGrath's book it becomes clear that while many historians tend to minimize the contributions made by the nation's first navy, it played an essential role in securing America's independence. It is true that the American fleet was dwarfed in both size and experience by that of the British. Nonetheless, it provided much needed materiel and funds to Washington's army through its captures of prizes and missions to France and neutral ports.
Give Me A Fast Ship also introduced this reader to some new characters whose contributions to America seem to have been sadly over-looked. Heroes abound in this story. Most people have heard of John Paul Jones, after all, he is considered by many to be the father of the US Navy, and is interred with honor at Annapolis.*
But how many people have heard of Gustavus Conyngham? Conyngham was a patriot who took the fight right to England's door step, striking terror into the hearts of its citizenry and driving up insurance rates. He was so successful that he captured a ship about every three days on his first cruise. The Dunkirk Pirate, as he became known, captured or sunk sixty ships! Insurance rates in Britain brought shipping expenses to their highest rates ever up to that point. The king himself was thirsty for Conyngham's blood. When he was finally captured, he was subjected to brutal treatment and imprisoned at Mill Prison in Plymouth. The maltreatment he received nearly killed him, and he was only spared because of Benjamin Franklin's constant intercession on his behalf. Franklin obtained Washington's assistance, who threatened to hang six British officers if the British hanged Conyngham. Despite the terrible treatment he received during his imprisonment he refused to take the easy way out – the British offered to release him, if he would accept service in their navy. Conyngham not only did not accept, but helped organize his fellow prisoners by getting them to commit to signing a document that stipulated that they would not leave the American cause no matter how terrible the conditions became.
Ultimately, Conyngham was placed on trial for high treason, but escaped before sentencing could be carried out.
Conyngham met up with John Paul Jones after his famous victory over the Serapis, and actually cruised with Jones for several months before catching a ride on a ship bound for America. Unfortunately for Conyngham, The Experiment was captured and he was sent back to Mill Prison, where he remained until exchanged in a political prisoner swap.
In spite of all of Conyngham's accomplishments, he was treated pretty shabbily by the American Congress, becoming caught between the political infighting of Silas Deane and other factions, which included Franklin.
The Continental Congress refused to pay him properly for his work because of his inability to produce his commission, which had been confiscated from him by the French almost three years ago. Because Benjamin Franklin had given him an official commission, he was not merely a privateer, but an actual Captain in the United States Navy. As such, he was entitled to two-twentieths of the value of the ships he took as prizes. As he could not produce his commission, and Benjamin Franklin passed on before he could give proper testimony of Conyngham's commissioning, the Continental Congress refused to pay him what he was due, and instead treated him as a common privateer during his earliest and most successful raids. However, despite his quarrels with the government, he still continued to serve his country. During the Quasi-War with the French, he captained the Maria, an armed merchant vessel, bringing much needed supplies to the front lines. Toward the end of his life, he was elected to the Common Council of Philadelphia, and managed to raise thirty thousand dollars in loans from the population in order to defend the city during the War of 1812. He never allowed his quarrels with politicians to come between his commitment to his country. He died quietly in his home on 27 November 1819. Wikipedia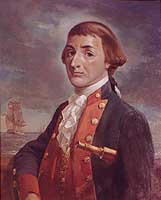 Conyngham's experience with a stingy, mean-spirited Congress was not unique. McGrath details many examples of Congress going back on its word and refusing, on technical grounds, just payment to the men of its early navy and their survivors.
Conyngham was just one of many heroic and admirable figures in the navy. Nicholas Biddle was another. As a young captain in the navy, he was fearless, and received enormous respect from all who served under him. He was also very philosophical as is evidenced by this snippet from a letter addressed to his brother, James,
I well know the glorious cause I am engaged in. And if ever I disgrace it May My Kind father who gave me being instantly blast me in mercy to me. I mean not be be de[s]perate beyond measure. But to do my duty to the utmost of My Ability. If in spite of my best endeavor I should be taken, If Fortune should frown upon me I hope I shall bear up against it with that Fortitude Patience and Resignation which I usually found Myself Possessed of And Never in my Life was better pleased with a trip I was going to take than I am with this. I beg you to give my Sincere Love to My dear Sister Fanny to My Mother and all the Family.
Interestingly enough, Biddle had served in the Royal Navy as a midshipman with none other than Horatio Nelson! They had berthed together on an expedition to the North Pole.
Biddle put his unique experience with the Royal Navy to good use for America. In another letter to his brother Charles after a successful cruise, he added in what McGrath refers to as a "rare postscript."
I fear Nothing but what I ought to fear. I am much more Afraid of doing a foolish Action than loosing My Life. I am for a Character of Conduct as well as courage And hope never to throw away the Vessel and Crew merely to convoke the world I have Courage. No on has dar[e]d to impeach it yet. If any should I will not leave them a Moment to doubt it.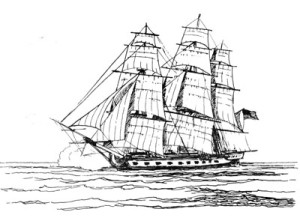 Unfortunately for him, his fiancee, and America, Biddle's brilliant career was cut short in a battle between his ship The Randolph and a much larger British Man of War, the 64-gun HMS Yarmouth.
Rather than trying to flee from the more heavily armed opponent, the Randolph engaged in battle. An eyewitness reported the frigate held her own in the twenty minute engagement, appearing, "to fire four or five broadsides to the Yarmouth's one." After Biddle was wounded, the Randolph blew up suddenly, killing all but four of the 305 on board including Biddle. Wikipedia
Exploding warships while not an everyday occurrence, were a feature of this war, as in the case of The Nancy. The Nancy was an American brig captained my Hugh Montgomery, en route from St. Croix to Philadelphia, her holds full of much needed gunpowder for Washington's troops.
The Nancy was being pursued by the British when John Barry (the subject of McGrath's earlier biography reviewed here) arrived on the scene to lend assistance. The Nancy came in to Turtle Gut inlet as close as she dared, in the shallow water. Barry organized teams of men to unload the cargo, while providing men to help fight the guns.
The British initially sent in one of their shallower draft ships, The Kingfisher which turned and directed its broadsides at The Nancy. Initially, The Kingfisher's blasts were high, and The Nancy was largely unscathed. Not close enough for accurate fire, The Kingfisher sent boats in to board The Nancy.
During the initial onslaught, Barry kept the Nancy's guns silent. But once the longboats came in range, the Americans let fly with an accurate broadside, damaging one boat beyond repair and driving the British back to their ship.
Then another British ship, The Orpheus, joined the fight and she and The Kingfisher edged several hundred yards closer. Within a half an hour the British ships found the range.
With each broadside, The Nancy was being blasted to bits, but miraculously, no American had been killed. ….

There were 121 barrels left when the bombardment became too much for Barry to ignore, and he sent all hands to the boats. As they went over the side, Barry and Montgomery set several half barrels in the captains cabin, filled a spare sail with gunpowder, and ran it between the hold and the cabin as a makeshift fuse. Barry lit it with a hot coal, and the two captains climbed down to the boats…

While they abandoned ship, British longboats from both the Orpheus and the Liverpool were again rowing furiously toward the brigantine for a second attack. ….

Finally, one of the longboats reached The Nancy. Immediately, the men climbed hand over hand up the side. Seeing them reach the deck, their comrades from the ships gave a load cheer. That very second, as their exultant cry was still in their throats, the burning fuse reached both the cabin and hold. With a deafening roar that could be heard in Philadelphia, The Nancy exploded.
Although full of interesting stories like these, Give Me A Fast Ship also gives fair treatment to some of the pettier aspects that characterized the behavior of even notable and brave men like John Paul Jones. Few of the the early captains were without faults. There was much bickering, envy and jealousy about positions on the captain's list (for all-important seniority), who would get ships and who would be stuck "on the beach." Such inclusion is necessary, in a book like McGrath's, but this reviewer is free to focus on some of the better characters.
McGrath has written a very complete and detailed history of the Revolutionary American Navy His book fills in a gap left by many historians focusing on Revolution. There is no shortage of heroic figures, to satisfy the most ardent patriot!
*Please refer to our review of The Admiral And The Ambassador for the story of the discovery of John Paul Jones' grave in France.