In late December of 2012, Tim McGrath, author of John Barry, An American Hero In The Age Of Sail,  reviewed here, was kind enough to give this blogger almost two hours of his valuable time (he's busy finishing up a new book, and running a business).  Because of the length of the interview, this is the second of three parts.
2. John Barry:  An American Hero In The Age of Sail
Martin:  The voyage Barry made to China was extremely interesting.  You referred to several different sources for this, including logs and personal journals.  Were these part of Barry's papers?
Tim McGrath:   Patrick's journal was part of the Barry-Hayes papers as were quite a few of the other documents they have.  There were trade papers, the chop (his license to trade), Barry's memorandum on the China trade.  That, to be honest, was my favorite part of the book.  I felt like a kid on Christmas morning, finding this really terrific story.  How the Chinese worked the trade, how the European powers – Britain, Holland, Portugal, and now the Americans were saying, "make room for us." 
No one was allowed, if they were not Chinese, within the walls of Canton.  They were outside, where they have what they call factories.  The bottom part of the house is where the captain stored the goods they were bringing back, and they would live upstairs.  But they were not allowed to enter the city because they were barbarians.
Martin: Well it was fascinating, because it was a firsthand glimpse at how things were set up and how things worked.  They were pretty organized.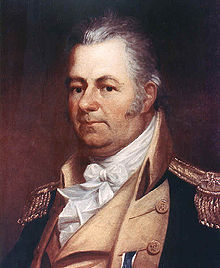 Tim McGrath:  The other thing which was not in the Barry-Hayes papers, was that he had become very good friends with Thomas Truxton, who commanded privateers in the Revolution but then was the real sea hero in the Quasi-War with France.  He and Truxton both leave Canton on the same day with the idea that they'll be able to sail together.  But, you know, they're going 18,000 miles, so they wind up losing each other.  But Truxton's ship was sailing much better than Barry's ship, which was called the Asia.  And so when Barry comes up the Delaware, he gets very worried.  Before they left, both captains exchanged letters for the other's family in case one did get lost at sea.  So, Barry had this wonderful letter that Truxton wrote to one of his daughters.  œI love you and your sisters all alike, be good to your mother, be this that and the other.  Barry was really kind of concerned, like, do I have to head into town and find Mrs. Truxton and give her this?  And ironically, a day after the Asia has docked, up comes Truxton's ship.  You know, to go that far in that day and age with that kind transportation and be a day apart?  I just thought that was remarkable.
Martin:  I did not know about Barry's involvement in Pennsylvania's ratification of the Constitution. * The threat of legal proceedings hung over Barry for quite a while.  Why was it finally dropped?  McCalmont doesn't seem like the forgive-and-forget type.
Tim McGrath: He was a cross between Hawkeye from Fenimore Cooper novels and Newt Gingrich.  he was a Frontier Indian fighter and not somebody to mess with. After Barry's Shanghai service, Charles Biddle was the Attorney General, and Barry knew him and his brother Nicholas who died tragically in the revolution in a sea battle.  Barry is the only person specifically named in the warrants because he is the ringleader of all this.  Biddle writes very cagily in his autobiography that he'd met with the one of the ringleaders and that this guy got very angry, œWhat are you picking on me for?  and Biddle assures him œWe're going to do this investigation very slowly.  All this happened while Barry's merchant ship Asia was being built down the street.  He actually issued the warrant while Barry was out to sea.   About 1.5 years away, from Philadelphia, so Biddle just let it blow over.
It was interesting to me because, someone was describing it saying that the more things change the more they stay the same, trying to link it to issues in Wisconsin a couple years ago with Governor Walker and what was going on there.
I think it's one of those things that either political side could claim, yeah this is what they could do, and the other could sniff about the wrongness of it.
People forget that these naval officers and sailors, it's four years after the war, and they were still waiting to be paid, and they really felt that the Constitutional Convention had approved the Constitution twelve days before Barry did this, and now the states were debating it for ratification.  And almost all the naval officers felt that a stronger federal government would be the only way they would get paid for what they did.
The final disbursement to sailors who fought with John Paul Jones on the Bonhomme Richarde was in the 1840's, by which time most of these guys' children (if they had any) were dead …
Martin: The Newburg conspiracy highlighted the issues with pay for the Continental Army, but it seems like sailors really got the short end of the stick ¦
Tim McGrath: There is one friend of Barry's, John Young.  He was captain of a privateer with Barry's squadron and then was given command of the Saratoga which, was lost at sea.  His widow Joanna tried for several years to see if she could get some kind of a pension, but Congress denied it to her because, they said, "if you were an army officer we would do something like this, but since your husband was a naval officer, and naval officers got prize shares from captures, and the army did not, you're fine!"  Forgetting that she hadn't been paid those prize shares either!
The interesting thing to me, working on this book and my new one on the Continental Navy, was that if these men and their families set the example for generations up to and including now about service to one's country and devotion to duty and the sacrifices that their families make while they are away … then the lip service of "support the troops, but just don't ask us to pay for their care, or their families issues" [has been carried on, too].
Martin:  Recent news is a prime example of that during the so-called Government shutdown …
Tim McGrath:  Some things don't change and they transcend party affiliations.  It's ironic how things continue to repeat themselves.  But this one is almost farcical.
Martin: How did Barry's role in the new navy differ from his role during the war for Independence?
Tim McGrath:  He was the first captain chosen for the new US Navy.  He was honored and proud of this.  He was in his early 50's and had a pretty hard life at sea.  He had asthma.  That part of his life was kind of like when you're a fan of a public figure who's not what they used to be any more.  Sort of like Willy Mays with the Mets.  It's not the same Willy Mays.  Barry's health issues during the Quasi-War really hindered his effectiveness.  At the same time, he captured a slew of prizes.  His record was nothing to be ashamed of, but during that war it was Thomas Truxton who won a gold medal and had the two largest battles in the naval war.   What was ironic to me was that although Barry never came out as having any party affiliation as to whether he was a Federalist or a Republican Democrat, you can pretty much guess that he was a Federalist.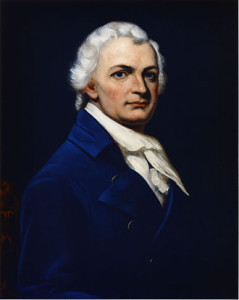 John Adams and his administration, and Ben Stoddert who was the first Secretary of the Navy were avid Federalists, yet Stoddert and Adams were almost contemptuous of Barry. On the other hand, the Republican Democrats, especially when Jefferson took office, were very admiring of his talents and wanted him to continue to serve.
I think that his greatest accomplishment at that point was that he turned his frigate the United States, which was built in Philadelphia, into a floating naval academy.
So many of the officers that go on to distinguish themselves in the Barbary Wars and the War of 1812, (Stephen Decatur, Charles Stuart, Richard Sommers,etc.) served under Barry as midshipmen.  I think that was his real accomplishment during that time.  This is how you command a ship, this is how you lead.
As much as Stoddert didn't like Barry, at the end of the Quasi-War, Stoddert asked Barry to take his son as a midshipman, because he knew that he would A) be well-treated and B) that he would learn something.
Martin: Toward the end of Barry's career, it seems he was a bit lost as to his place, perhaps not dissimilar to the middle-aged guy who finds himself needing a new job.  He was forced to report to people who hamstrung his actions, and then were disappointed when he did as they bid.  Can you elaborate on this?
Tim McGrath:  That is a good point.  On his first cruise, Stoddert gave specific orders on when he was to return.  He made a couple of captures and returned.  Barry did what he was told, but without a decisive victory.  Because he didn't come back with a couple of frigates, Stoddert writes, œBarry returned too soon.  He was a good secretary of the navy, but under a lot of pressure.
It wasn't just Barry he was upset with, but also Nicholson, some of whose escapades read like Groucho Marx was in charge of the ship.  During this time Truxton rose to the fore, because the fates put him in circumstances that let him fight some French frigates in some pretty remarkable battles, like those Barry fought in the Revolutionary War, but nothing like that comes Barry's way.
It really was like Joe Lewis or Mohammed Ali at the end of his career.  He really wanted that last knockout punch to retire on and it just never happened.
Read the conclusion in part 3 tomorrow!
*In an intriguing interlude after the war, when the Constitution was up for ratification, Barry played an interesting, if dubious role in getting it ratified in Pennsylvania.  For details, check out the review of Mr. McGrath's book.