Angry Mobs and Founding Fathers, by Michael E. Newton
I want to thank Martin for the plug for my new book, but I'm not the only author blogging at What Would the Founder Think?  Michael E. Newton has recently published his second book, Angry Mobs and Founding Fathers: The Fight for Control of the American Revolution.  Michael is a great researcher and his non-fiction books are filled with rare facts and tidbits that surprise the reader.
From the Publisher: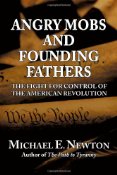 Angry mobs launched the American Revolution when they protested against British acts of tyranny.  These rebels threatened, harassed, and chased away British officials and Loyalists.  The Founding Fathers agreed with the goals of these Patriots, but not with their methods.  Fearing anarchy, the Founders channeled the passions of the mobs toward independence.
James D. Best is the author of Tempest at Dawn, a novel about the 1787 Constitutional Convention.