I first heard Heather Masse while driving on the 101 north-bound (in Phoenix) on a Sunday afternoon.  She was singing the last cut on the CD as one of Garrison Kiellor's Prairie Home Companion performers. Masse has an enchanting, sweet voice.  I listened carefully and made a mental note of her name.  When I got home later I went on line in search of Heather Masse.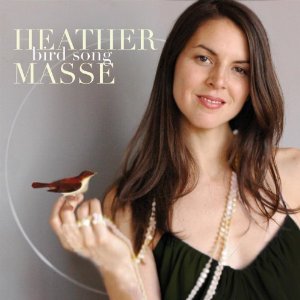 What I found instead were references to the Wailin' Jennys (also darn good) , an EP called Many Moons, and another band she was part of.  It appeared that she didn't have much in the way of a solo CD other than the EP.  I was disappointed.
Eventually, I ended up buying a couple Wailin' Jennys CD's.
Amazon quietly took note of my purchases, and when Miss Masse came out with a new CD, I got advance notice through their recommendations.  I was thrilled and purchsed it immediately.
This is a great CD.  Heather Masse has a wonderful sweet voice and a lot of talent to go with it.  The musical styles displayed on the album range from folk to country to rockabilly.  She obviously had a lot of fun with this.
As I mentioned earlier, the last song on the CD, Mittens, is what caught my ear on Prairie Home Companion.  I was pleased to discover that she had included it on the CD.  It's delightful.  I bought the CD without knowing that this song was on it.   So, this was bonus.
I wasn't sure what to expect with the CD, since when I bought it, Amazon had yet to put up the samples.  I haven't been disappointed.  I think her voice is reminiscent of Jennifer Warnes on some tracks, Alison Krauss blended with Kathy Mattea on others, and Suzy Boggus at times.  The song, Hollywood, is reminiscent of a young Rickie Lee Jones – only better!  I offer these comparisons by way of compliment.  She, of course has her own style and sound, and it's really good.
High Heeled Woman is fun rockabilly romp that I could easily picture being sung by Lyle Lovett or perhaps Dwight Yokam. She falls back on the old timey tradition of singing the song from a man's perspective.  It's a lot of fun – a real toe tapper.
The first track on the album, I Don't Want to Wake Up Today, is a very pleasant introduction to Masse's vocal talents and features some nice guitar-work.
The title track, Bird Song, is similar in style, but if possible even sweeter to the ear.  The lyrics on both of these tracks are thoughtful and soothing, a perfect complement to the music itself.  Bird Song feels almost like a lullaby.
I liked almost every song on this CD. The only one I didn't care for so much was Chosen.  It's a story of loss and suicide, way too depressing for my tastes.
All in all, it's a great CD, and one I've listened to quite a bit over the past couple years.