Apple is currently being run by a sensitive man and it shows. The corporate behemoth is ever-so-much more sensitive these days.
Trying to make the App Store into its version of a "safe zone," Apple has decided to pull dozens of Civil War games depicting the Confederate Flag, for no other reason than they do so. Evidently, Apple decided that its users are incapable of handling the stress associated with seeing an emblem like the Confederate flag, in the context of a historical war game. (Games like Castle Wolfenstein, which are filled with NAZI swastikas, are evidently ok.)
Macrumors.com did a spot check and here is a sampling of the "mean-spirited" games removed from the App Store.
Ultimate General: Gettysburg
AAA American Civil War Cannon Shooter
Civil War: Hidden Mysteries
Civil War The Battle Game
Civil War Defense
Civil War Battle Defense
1861 A Civil War Rebellion
Civil War: 1862
Civil War: 1863
Apple had this to say:
We have removed apps from the App Store that use the Confederate flag in offensive or mean-spirited ways, which is in violation of our guidelines," an Apple spokesperson told BuzzFeed News. "We are not removing apps that display the Confederate flag for educational or historical uses.
I'm waiting to hear that The Dukes of Hazzard has been banned a la Disney's Song of the South, and that Tom Wopat and John Scheider are being forced to publicly apologize for their cultureal insesitivity and pay back all the money they made from starring in the popular series that ran from 1979 – 1985.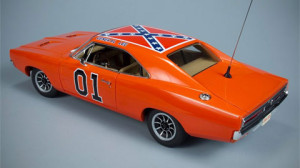 Even as a I write this, the General Lee is being stripped of its emblematic logo and being renamed the Silly Savage. Â Ok, so I made up the last part.
H/T to GK