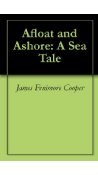 Afloat and Ashore has much to offer a modern reader, or at least one with interests like this reviewer's.  First and foremost, Afloat And Ashore is a good story with good character development.  The story takes place in the formative years of its hero's ascendancy to both adulthood and manhood.  As the reader quickly ascertains, the attainment of years is not necessarily the same as maturity.  There is more to being a man than reaching a certain age.  The innocent immaturity of childhood is nothing to be ashamed of, but a man learns to accept responsibility and behave accordingly.  
The hero of Cooper's tale is Miles Wallingford.  Upon the untimely deaths of his parents, he decides to follow in the footsteps of his late father, who early in life, made is fortune at sea.  Young Miles carefully ascertains that his parents had left no specific instructions that he was obligated to follow.  Once he has determined this to be the case, he plans his escape from his legal guardian and proceeds to sea with the son of his guardian in tow, much to the chagrin of their two respective sisters.   All four young people are of roughly the same age.
Almost immediately there are notable differences between the two young men.   The hero (not unexpectedly) proves to be of superior character and capabilities, while the other young man turns out to be a shirker, interested in doing only the bare minimum in any given situation.  The yarn is spun out over the course of several years and voyages.  There are pirates, shipwrecks, and adventures of all sorts, at the end of which Miles ascends from a common unrated seaman "before the mast" first to third mate, then second, then first and finally circumstances place him in command of first the vessel in which he started, and finally of his own.
Throughout, the hero makes mistakes – one of which causes his ship to be captured.  However, he owns his mistakes, does not dwell upon them, but finds ways to correct them.  His observations of human nature, both through the person of his mentor Moses Marble, and directly, show Miles' progression into manhood.  The story ends rather abruptly (like a Neal Stephenson novel!)  But alas, there is a sequel, which will hopefully tie up some loose ends.
Patrick O'Brian fans will find much to like in Afloat and Ashore, as will Louis L'Amour fans   The former because of its innate authenticity (Cooper served as a midshipman in the US Navy), and the latter for its emphasis on masculine virtue.  But students of American history will also find much to recommend Afloat and Ashore.   This reader recently completed Gordon S. Wood's phenomenal Empire of Liberty which is a study of early American society.  Interestingly enough, Wood talks quite a bit about James Fenimore Cooper's father (William Cooper) who was a successful land speculator, for whom Cooperstown is named.  The novelist's characters seem to be based on men like his father, himself, and his own siblings – who squandered their fortunes.  They were all of the "middling sort" that Wood focuses upon in his book.  There is, of course, a romance in Afloat and Ashore.  The conflict in this arises from the different "social sets" of the hero's family and that of the girl he loves.  The emphasis placed on this difference was readily understandable after having read Wood's book on the subject.
Thus, Cooper's book is entertaining and interesting from many perspectives.   It was good enough, in fact, that this reader will read the sequel!