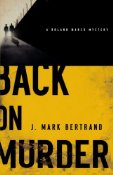 WWTFT doesn't review a lot of novels.  But, there's always an exception.  J. Mark Bertrand's debut novel, Back on Murder introduces ex-homicide detective Roland March. March, while still a cop, has been relegated to low-priority, career-killing cases of little or lesser importance.
Bertrand is in no hurry to explain the back-story, and dribbles it out piecemeal throughout the novel.  The reader gets to know March, a less-than-perfect hero, as the story progresses. March is a broken man, struggling in his marriage, going nowhere in his career, when he is given an opportunity to redeem himself and return to working Houston's Police Homicide Department.
Back on Murder is not a pat, perfectly constructed story.  Instead it is a thoughtful look inside an honest man's head. It is a first person account as seen through the prism of March's personality and experiences. March is unhappy in his marriage. His wife is not a terribly sympathetic character when the reader first meets her, and so one has to wonder why March is still with her.  However, when March meets temptation in the form of a beautiful new partner, he never seriously contemplates infidelity, not because he's perfect, but because he is still in love with his wife, and perhaps because the opportunity does not leap out at him.  The reader gets the sense that if March had pursued it, something might have happened.  The great point is that March makes no attempt to do so, despite the fact that his wife is kind of a witch at this point in the story.
March is not a particularly religious man, and is somewhat ambivalent about God.  So he makes an interesting foil for some of the other characters who appear periodically throughout the book. Bertrand works in some interesting philosophical conversations between the skeptical March and some of the more religious characters in the story.  The author himself has no voice in the story, leaving the reader and his hero to think about things for themselves.
Aside from these brushes with Christianity, Bertrand exposes March's character through his humility.  March knows he has messed up and is desperate to put his career and his life back on track.  The reader is taken by March's self-awareness, as well as his deprecated sense of self-worth.  Bertrand illustrates this when March is utterly convinced that one of the cops with whom he works is a self-absorbed jerk, who's determined to make March's life miserable. About halfway through the story, March finds out that he's gotten this man's character completely wrong.
The realization shakes March and is another milestone on the way out of his self-generated ostracism within the department.
Bertrand's March is reminiscent of a younger version of John D. MacDonald's Travis McGee.  Both are thoughtful and cognizant of their own mortality.  March is a character that the reader empathizes with and even grows to admire by the end of the story. In addition to great characters, Bertrand's writing is crisp and his plotting is solid. As an added benefit, Back On Murder is available for free on the Kindle and the Nook!  It is the first in a series featuring Roland March.