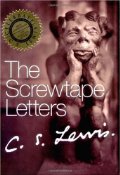 Admittedly, this is not the type of book we would normally review here at WWTFT.  And so, let's not call it a standard book review.  But, in rereading this classic work by C. S. Lewis, certain observations popped out that were, perhaps relevant to the mission of WWTFT.
First off, for those of you who aren't familiar with the book.  Here is what is written on inside of the dust jacket:
A masterpiece of satire, this classic has entertained and enlightened readers the world over with its sly and ironic portrayal of human life from the vantage point of Screwtape, a senior tempter in the service of "Our Father Below."  At once wildly comic, deadly serious, and strikingly original, C. S. Lewis gives us the correspondence of the worldly-wise old devil to his nephew Wormwood, a novice demon in charge of securing the damnation of an ordinary young man. The Screwtape Letters is the most engaging and humorous account of temptation — and triumph over it — ever written.
Having read the book, I didn't find it funny in the slightest.  It was brilliant satire, but I think the guy that wrote the description above, missed the point.  He was right about one thing though, the book, while a satire, is "deadly serious."  Lewis published an addendum of sorts, some time after the original had been published.  This took the form of a short piece entitled Screwtape Proposes a Toast which appeared in The Saturday Evening Post.  As this is included in the later edition, Lewis comments on writing The Screwtape Letters as a preface of sorts to the addendum.
Lewis explains that, although he never wrote anything more easily, it wasn't enjoyable.  Because while it was
easy to twist one's mind into the diabolical attitude, it was not fun, or not fun for long…  The world into which I had to project myself while I spoke through Screwtape was all dust, grit, thirst, and itch.  Every trace of beauty, freshness and geniality had to be excluded.  It almost smothered me before I was done.
That is what it felt like to read it, too.
So, what does this have to do with our mission at WWTFT?  The name of this site, What Would The Founders Think?, aside from being somewhat cumbersome to type as a URL (you can also use WWTFT.com, btw), may be misleading.  This name may be why we are occasionally accused of hagiography in our desire to understand the Founders.  After all, it is somewhat similar to the religious refrain, "What Would Jesus Do?"  That similarity is unintended and unfortunate.
The Founders are the people that put together the most unique and successful system of government that the world has ever seen.  It wasn't just chance.  Simply put, they are the authority on the system they assembled.   It is appropriate to look at their words and deeds to understand what they had in mind for this republic.  And this is the segue into The Screwtape Letters, in one of which Screwtape explains:
Only the learned read old books and we have now so dealt with the learned that they are of all men the least likely to acquire wisdom by doing so.  We have done this by inculcating the Historical Point of View.  The Historical Point of View, put briefly, means that when a learned man is presented with any statement in an ancient author, the one question he never asks is whether it is true.

…

To regard the ancient writer as a possible source of knowledge — to anticipate that what he said could possibly modify your thoughts or your behaviour — this would be rejected as a unutterably simple-minded. And since we cannot deceive the whole human race all the time, it is most important thus to cut every generation off from all others; for where learning makes a free commerce between the ages there is always the danger that the characteristic errors of one may be corrected by the characteristic truths of another.  But thanks be to Our Father and the Historical Point of View, great scholars are now as little nourished by the past as the most ignorant mechanic who holds that 'history is bunk.'
I recently had a brief conversation on one of the social networking sites where I posted a link to the crossword puzzle based on an article by Ben Franklin called On The Price of Corn and the Management of the Poor.  The article must have struck a chord with one reader, he questioned the authenticity of the piece, perhaps because it seemed so relevant.  Here is the exchange of comments:
Him: It doesn't sound authentic to me. Probably modern.

Me: It is authentic. (link to google books showing the actual article from Franklin)

Him: So it is. I guess the lesson is we are still fighting about the same things 250 years later and might be still fighting about them 250 years from now.

Me: That is precisely the point. 🙂

"His observations on taxation and charity are just as applicable today as when he wrote them in 1766."

People as a species haven't changed. People are still inherently selfish, still slaves to their animal natures, still subject to greed, etc. We haven't outgrown much, if anything in the last 250 years.
And that is indeed the whole point of this site.  We aren't proposing that the Founders were demigods or saints.  We do think that many of them displayed an incredible depth of character and knowledge, and that as creators of the system we have been fortunate enough to live under, they deserve to be considered as a good source of information about how to run it, and how to fix it.
Don't tell Screwtape.