It's a new year and that's a good thing since the old one was getting a little stale. Even the snow and frigid temperatures in late December couldn't keep 2013 fresh.  So, let's look ahead.  Here are some of my predictions for 2014.  Will any of them come true?  Well, time will tell.
Republicans will stop bickering long enough to win back control of the Senate in the 2014 midterm elections.  Forgetting that he still has control of the Senate through the end of the year, Harry Reid will demand the new Republican majority do away with the soon-to-be heinous Senate "nuclear option."
A team of climate researchers from Australia will set out to confirm that climate change causes darkness.  They discover that darkness appears to be intermittent and that only certain time periods during any 24-hour day are actually dark.  Although a bit bewildered, they nonetheless announce the science is settled.
Obamacare supporters will look back fondly on 2013 when things didn't go nearly as badly for the healthcare law as they do in 2014.
President Obama will play more rounds of golf than any left-handed person in the country – and that includes Phil Mickelson.
All remaining relatives of North Korean dictator Kim Jong-un (those not already eaten by hungry dogs) will claim they aren't really related to the despot.  Rather, they are just acquaintances, and not very close ones at that.  Further, they will quietly launch a campaign to make sure that all North Korean dogs are well fed.
Climate researchers traveling through England, where they are unable to get a cold beer or ice in their Cokes at any restaurant, will cite this as evidence of climate change.  They announce the science is settled.
As it is nearly impossible to add a new child to one's health insurance through healthcare.gov, President Obama will unilaterally require a delay in the births of all children until 2015.  "This will give us time to work out the bugs and make the Affordable Care Act even better," Obama will say.
Cher and Ted Cruz will not sing a duet of I Got You, Babe.  However, intense negotiations lead to the possibility of them singing The Beat Goes On.
In an effort to distance herself from Obamacare during a tough re-election campaign, Senator Mary Landrieu (D-LA) will deny she ever voted for Obamacare.  Further, she will deny she voted for Obama.  Finally, she will claim she has no personal knowledge of someone named Barack Obama.
There will be no fewer than two and possibly as many as five photos of Miley Cyrus with her tongue in her mouth.  Al Gore will announce the science is settled.
MSNBC will go an entire week with no actual viewers when its two regular viewers, a married couple from Plumsteadville, PA, take a 7-day Caribbean cruise.
Colorado state government begins realizing the tax benefits of the new marijuana legalization law.  While some of the increased tax revenue will come from legal marijuana sales, most will come through the huge increase in the demand for brownies.
Chinese tycoon Chen Guangbiao, who made millions in the recycling business, will buy the New York Times, a newspaper that made millions recycling tired leftist ideology.  The Times Sunday edition will also include egg rolls.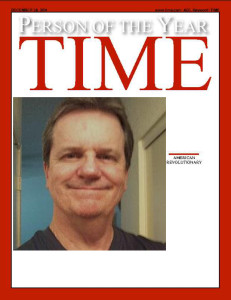 Bill and Hillary Clinton will keep low profiles, spending most of the year trying to figure out how to spin her infamous "what difference does it make" comment into a positive.  They naturally get help from the staff of the New York Times until Chen Guangbiao asks, "Who's Hillary Clinton?"
Russia's team figure skating team (a bit redundant), captained by Vladimir Putin, will win the first-ever Olympic gold medal in the sport during the Sochi Winter Olympics.  As expected, Putin will perform shirtless – and on horseback.
In anticipation of a possible 2016 presidential run, Joe Biden will release his autobiography titled, An Episode of Disorientation and Weakness: My Life in Politics.
Once again I will not be selected as People Magazine's Sexiest Man Alive.  However, owning to Time Magazine's continuing efforts to lower its standards, I will get some consideration for its Person of the Year.
Curtice Mang is the author of the two books, including the new book, The Smell of Politics: The Good, The Bad, and the Odorous. He can be contacted at www.mangwrites.com, where one can also purchase his books; or contact Curtice at mangwrites at cox.net.