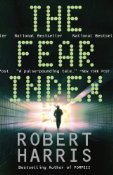 Someone is out to ruin billionaire hedge fund president Alex Hoffman, the main character in The Fear Index.   Hoffman is a physicist geek genius, turned computer scientist, who finds the restrictions on his research at CERN too confining.  Enter Hugo Quarry, a handsome and debonaire Brit who convinces Hoffman to pair his algorithms with hedge fund management.
The unlikely duo make history with their fantastically successful fund, which produces higher returns each successive year.
To all appearances Hoffman has it made, with a personal net worth of over a billion dollars, a 60 million dollar mansion, and a beautiful wife who loves him.
Then strange things begin to happen and the reader is treated to a roller coaster ride, replete with red-herrings, violence and just enough reality to make one wonder about certain real-life events.
The Fear Index is  very entertaining, although the plot is not terribly original.  Nevertheless, author Robert Harris manages to keep the hook buried until nearly two thirds of the way through.  Even then, Harris manages to make the reader want to see how the story unfolds.  This is the kind of book that you'd want to read relaxing on a beach.  It won't tax your brain, but does manage to keep your interest.