"If you want total security, go to prison. There you're fed, clothed, given medical care and so on. The only thing lacking…is freedom." Dwight D. Eisenhower
We just spent nearly a month overseas. First, we attended a wedding in Istanbul, and then spent about three weeks touring Spain by car. It was a great trip and Spaniards are a gracious people who welcome Americans. We drove nearly 3,000 kilometers and had a couple of mechanical problems in the middle of nowhere. Roadside eateries, detours to out-of-the-way places, and getting the rental car fixed provided plenty of opportunity to interact with people outside of tourist locations. What we saw were two Spains. The first was vibrant, wealthy, and dismissive of the nation's economic woes. The second Spain was lethargic, scraping by, and dismissive of the nation's economic woes. The first Spain was adept at avoiding taxes, and the denizens of the second Spain were contestants in an ever-expanding underground economy.
Since we had traveled Europe many times and I had managed a European operation based in France, this dichotomy didn't surprise us.  The sense of normalcy did distress us. To our fresh eyes, it seemed a return to the time of royals. The governing aristocracy and their cronies did just fine and the peasants' basic needs were taken care of. This was the welfare state writ large.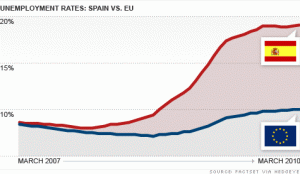 A few weeks will not make one an expert on a foreign country, so take these observations with a grain of salt.
Spanish newspapers were hyperventilating on the country's economic woes and whether their Teutonic neighbors would come to their rescue. Journalists seemed to think this was only fair, but the logic of why it was fair escaped me.
Due to the modern wonders of technology I was able to download daily the Wall Street Journal to my Kindle. There was an article on Spain nearly every day and none too promising. One article related how wealthy Catalonia was upset that they were being heavily taxed to subsidize poorer regions of the country. (Catalonians may have some sympathy for the Germans.) The government told Catalonia that constitutional restrictions required redistribution of wealth.
Spain recently raised the Value Added Tax (basically a hidden sales tax) to 22%. Foreigners can get the VAT back on leaving the country, but it's a hassle. We restricted our purchases to food, lodging, and knickknacks.
Gasoline and diesel cost over $7 per gallon. Tolls on highways were flabbergasting. Several times the tax for about an hour's drive was over 30 dollars at current exchange rates. Car insurance is mandated by the government and exceeded the car rental rate. Parking was expensive and scarce. The highways were uncrowded. When I asked why, I was told only the rich drive. We understood.
Public transportation was good, especially in the cities. Of course unless someone was in the upper tier, there was no other option. Homes and cars for most people were small to tiny. Both had mandated energy efficiency, but the squeezed size was the biggest reason for lower energy usage than in the United States. The country is littered with windmills and solar farms. Oil consumption in Spain has declined since 2007, but I found no way to tell if the cause was alternate fuels or a contracting economy.
I visited Greece a couple years ago. Superficially, business looked robust; but our guide told us the economic situation was miserable. She told us almost half of the economy had gone underground to avoid confiscatory taxes. It took a couple more years for things to collapse. The longer I was in Spain, the more it reminded me of Greece two years ago.
I returned to the United States to find both presidential candidates arguing about who could best help the middleclass. European progressives have found the solution. Eliminate the middleclass. Then politicians will no longer need to answer pesky questions about fixing the economy for the everyman.
The upper echelons in Europe are either rich, work for the government, or have government connections. For the most part, the rest of the population is dependent on the government for food, shelter, health, and transportation. There are still some small businesses, but most of them are restaurants or small retail outlets where owners can game the system with cash transactions. It all worked rather well until too many people tipped to the underclass. Actually, it continued to work as long as others loaned enough money to maintain the welfare state. However, when a nation's credit line gets tapped out, there is only ugliness.
Is this freedom in the American sense? The American Dream is the ability to rise to any level independent of your status at birth. It doesn't matter if it's business, sports, entertainment, art, or government service. We all have a right to strive for whatever we want. President Obama is the epitome of the American Dream. Yet I don't believe he gets it in his gut. Otherwise, instead of entrapping an ever greater portion of the population in dependency, he would be brushing aside impediments to others who want to follow him. When a person is dependent, that person does not move, and the American idea of freedom is mobility. It's ingrained in our culture, our being. It comes from our forefathers who crossed a great ocean, pioneers who marched west in search of a new life, and the great black migration to the North during the mid-twentieth century. If we want a better life, freedom means we can go get it. On the other hand, if we're happy, freedom means we can stay put. Our decision … no one else's. What I saw in Spain were people who had become complacent with others making their decisions.
The United States has followed a different path. And that different path soundly defeated the Axis Powers and crushed the Russian Empire, while simultaneously building the largest and wealthiest middleclass in the world. That different path is called capitalism—with government operating under reasonable limits.
It's the American way … and we need to get back to it. Otherwise, we may become like Greece or Spain. Who knows? But for certain, we will no longer be Americans.
James D. Best is the author of the Steve Dancy Tales and Tempest at Dawn, a novel about the 1787 Constitutional Convention. Look for his new book, Principled Action, Lessons from the Origins of the American Republic.