Yeah, I never do this. Â But, I really like this thing. So here's a rare review of something that is not a book!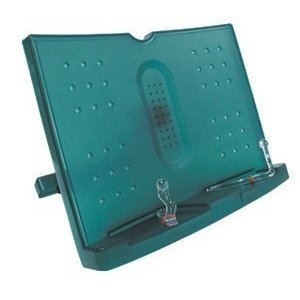 Actto BST-09 Green Portable Reading Stand/Book stand Document Holder (180 angle adjustable)
This is really handy.  As any regular reader of WWTFT knows, we review quite a few books. I've tried a lot of different approaches for getting quotes out of books and into a post.  I've used Dragon Text, had family members read quotes to me while I typed them in, used other books to hold books open to the proper page, held them in by lap … well you get the picture.  Each method woks, sort of.  Dragon is pretty good, but requires one to teach it, requires me to wear a doofy microphone, and is prone to misunderstand me (because I haven't spent enough time – a.) learning how to use it, and b.) training it to recognize my speech patterns.)  I end up spending more time correcting it, than I probably would have spent just typing it in.
Some time after visiting Monticello and seeing Jefferson's book stand, I thought maybe I'd make one of these for myself.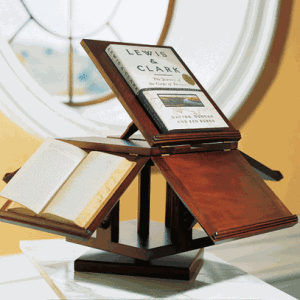 There are plans for this freely available on line, and it really didn't look that hard.
Alas, common sense prevailed.  I really didn't need that!  All I really wanted was something to hold my books when I need to transcribe a quote.  I went looking on Amazon, and lo and behold, there are lots of options! (And they are a whole lot cheaper than the $625 you'd pay for one of these from the Monticello store.
It works great!  And I can use it while having my coffee in the morning before I go to work.  My old iPad II sits on it comfortably and conveniently and I can check my email to see what the boss (who doesn't ever seem to sleep) has left in my inbox.