"Facts are stubborn things; and whatever may be our wishes, our inclinations, or the dictates of our passion, they cannot alter the state of facts and evidence."—John Adams
In a few days, I'm going on an extended trip to Turkey and Spain. Since I'll be out of reach, I thought it might be an opportune time to make some people angry. Those people would be my fellow baby boomers who I believe share some of the responsibility for the bankrupt Social Security and Medicare systems.
The boomers' refrain goes something like this:
I paid into these programs my entire life and I earned those benefits. The government made a deal. It was contract. I paid each paycheck on the promise I would get my money back when I got old. Now that I'm retired, or close to retirement, don't even think about cutting my Social Security or Medicare coverage.
Seniors are the most likely to vote of any demographic group. This is why Social Security and Medicare are called the third rail of politics. If a politician touches them, they get fried to a crisp.
Except the money was stolen. It's gone. In truth, it was never there. There is no lockbox. Never was. The Social Security Administration has some blips on a computer file signifying IOUs from the Treasury Department, but Treasury has no way to pay these debts except to borrow the money from someone else, probably the Chinese. You see, the Social Security Administration and the Treasury Department are part of the same big federal government family. These IOUs are like a husband dropping a hastily written note on the kitchen counter that says he owes his family money. His wife can no more take that note to the bank as collateral than we can take the assets recorded on the books of the Social Security Administration to the world capital markets. It's nonsense invented by politicians to create a pretext of being responsible.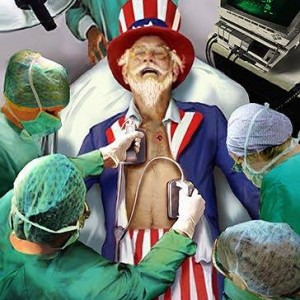 Now, here comes the harsh part: these indignant and noisy baby boomers hired these politicians and gave them the key to the piggy bank. Everyone knew, or should have known, what was going on. The payroll tax of the current work force was used to pay benefits to current retirees. Demographics were working against this scheme and time was running out. The money was never invested or put in a safe place. It was used to camouflage huge deficit spending in other areas. The government that owes you a retirement is in debt sixteen trillion dollars. It doesn't have your money anymore—and it doesn't have any other money. Some like to say the country's broke, but that's not true. We're far beyond broke. We've been living off someone else's dime for a long time.
It's our fault. We wanted a free lunch and elected—and then reelected—wily politicians that were good at three card monte. We knew they were charlatans. Heck, for decades the talk around the water cooler was that Social Security wouldn't be there when we needed it. We all nodded knowingly. We knew. Playing ignorant today is like someone pretending they never knew coffin-nails were unhealthy.
Ignoring facts in the face a crisis is irresponsible. What's even more irresponsible is insisting that our children and grandchildren sacrifice the American Dream because of our errors.
It's time to stand tall like the generations before us. They took responsibility for their mistakes and passed a better nation on to their children than they inherited from their parents. We need to do the same.
Now for good news: Paul Ryan has a plan to save Social Security and Medicare and eventually balance the budget. Despite what you hear from the left, it's a restrained plan due to fear of how it will be accepted by the American population at large and baby boomers in particular. In Ryan's plan, those 55 and older are exempted from any change. Should we sacrifice more? Perhaps. But only after we see all parties chip in. I've attended many Tea Party events. The universal refrain is to stop the spending. Many believe Ryan's plan timid. But the only way it can get stronger is if the Romney/Ryan ticket wins. Otherwise the whole idea of reigning back spending will be discarded. At least until we blunder over the cliff.
Many believe Romney threw away the election by picking Ryan as his running mate. Ryan had touched the third rail. For decades we elected scoundrels who stole our money. It's time to elect an adult that can see further than the next election. We need to elect the Romney/Ryan ticket and support their programs to get the deficit under control.
Only then can we read to our grandchildren at bedtime with a clear conscious.
James D. Best is the author of the Steve Dancy Tales and Tempest at Dawn, a novel about the 1787 Constitutional Convention. Look for his new book, Principled Action, Lessons from the Origins of the American Republic.