My grandfather escaped from Russia in 1916. Â His family was in the meat business and provided beef for the Russian army. Â Because of this, my 16 year old grandfather received a couple of deferments. Â But that didn't stop the recruiting teams from scooping him up and putting him in pen with other young and old men to be shipped off to the front. Â His father had given him a leather jacket, which he was able to toss over the barbed wire topping the fence so that he could scale it and get away. Â After this happened for the second time, his father decided enough was enough. Â The front was chewing up young men like a meat grinder. Â The untrained replacements, growing younger and younger weren't provided with so much as a rifle and were instructed to wait until one of their compatriots with a rifle was killed so they could fight. And so it was off to America.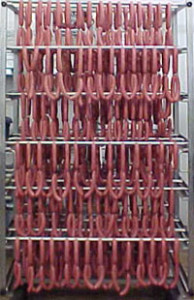 Forty years later, still in the meat business, he was the proud owner of a meat market in Milwaukee Wisconsin. Â America had been good to him and he had a twinkle in his eye and a gentle sense of humor.
One day while standing behind the counter and helping a customer he spied a woman in a long coat standing next to a rack of sausage strings. Â Out of the corner of his eye, he saw her stuff a string of wieners under her coat.
What she didn't realize was that the string was longer than her coat and that some of the sausage string was hanging beneath the coat's hem.
My grandfather came out from behind the counter with a knife in his hand and approached the woman, whose eyes grew wide at the approach of the bushy-eye-browed, knife-wielding butcher. Â He calmly reached down with the knife and trimmed off the portion of the sausage string that was visible. Â He held it up and smiled, patting her on the shoulder and said in his heavily accented English, "That don't look so good." Â He walked away and let the woman leave with her prize.
UPDATE: Â My mother read this and told me:
"The end of that story is that she was a customer until the day she died."