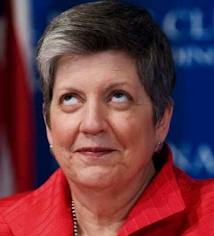 With the recent Republican and Democratic conventions completed and now the riots at our embassies, this story from a few weeks ago has gotten scant attention. Ten Immigration and Customs Enforcement (ICE) agents have filed suit against Secretary of Homeland Security Janet Napolitano and ICE Director John Morton. The issue? The Obama administration's deferred action directive (back door Dream Act amnesty) demands that ICE agents not arrest preferred illegal immigrants.
So, let's get this straight – agents of the federal government have brought a lawsuit against the federal government because the federal government is refusing to enforce the laws of the federal government. Further, Obama's amnesty program rewards those who violate the law (illegal aliens) yet it threatens to punish ICE agents who refuse to break the law. Huh?
Does this make sense to anybody not named Bud Abbott or Lou Costello?
The new ICE recruitment campaign: Make a Difference – Do Nothing!
Curtice Mang is the author of the new book, The Constitution – I'm Not Kidding and Other Tales of Liberal Folly. He can be contacted at www.mangwrites.com, where one can also purchase his book; or contact Curtice at mangwrites at cox.net.